Engine compartment fuse location table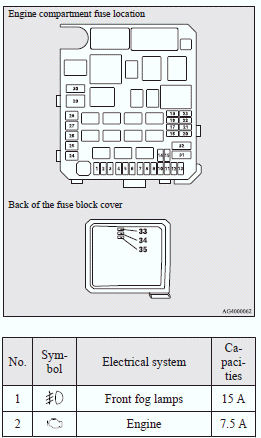 1: Except for petrol-powered vehicles equipped with turbocharger
2: Petrol-powered vehicles with turbocharger
3: Fusible link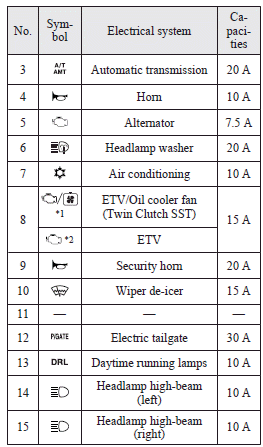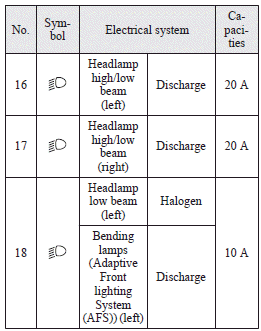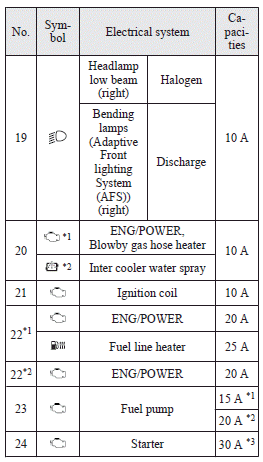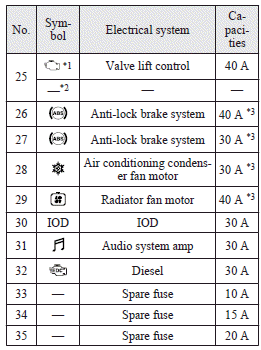 1: Except for petrol-powered vehicles equipped with turbocharger
2: Petrol-powered vehicles with turbocharger
3: Fusible link
► Some fuses may not be installed on your vehicle, depending on the vehicle model or specifications.
► The table above shows the main equipment corresponding to each fuse.
The fuse box does not contain spare 7.5 A, 25 A or 30 A fuses. If one of these fuses burns out, substitute with the following fuse.
7.5 A: 10 A spare fuse
25 A: 20 A spare fuse
30 A: 30 A audio system amp fuse
When using a substitute fuse, replace with a fuse of the correct capacity as soon as possible.
See also:
Exterior
The Outlander Sport has a sleek look. There's a little overbite on the grille, and narrow headlights that make it look menacing. Any parent driving it would look sporty in the carpool lane. Pare ...
Manual transmission
The shift pattern is shown on the gearshift lever knob. Be sure to always fully depress the clutch pedal before attempting to shift the lever. CAUTION • Do not put the gearshift lever into th ...
Running-in recommendations
During the running-in period for the first 1,000 km, it is advisable to drive your new vehicle using the following precautions as a guideline to aid long life as well as future economy and perform ...