Engine compartment fuse location table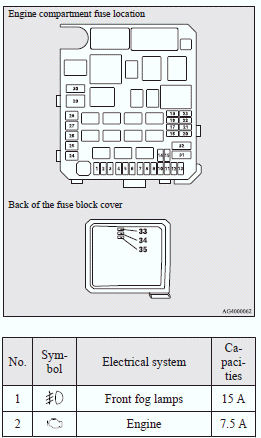 1: Except for petrol-powered vehicles equipped with turbocharger
2: Petrol-powered vehicles with turbocharger
3: Fusible link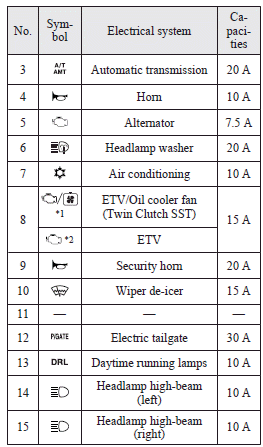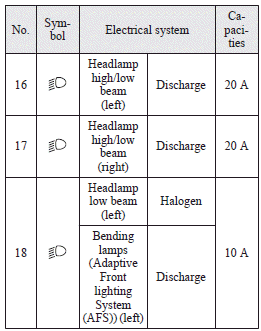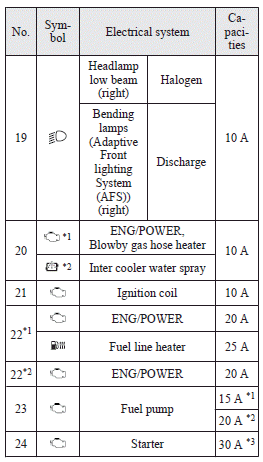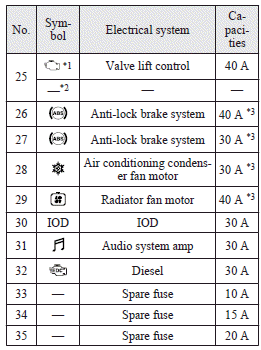 1: Except for petrol-powered vehicles equipped with turbocharger
2: Petrol-powered vehicles with turbocharger
3: Fusible link
► Some fuses may not be installed on your vehicle, depending on the vehicle model or specifications.
► The table above shows the main equipment corresponding to each fuse.
The fuse box does not contain spare 7.5 A, 25 A or 30 A fuses. If one of these fuses burns out, substitute with the following fuse.
7.5 A: 10 A spare fuse
25 A: 20 A spare fuse
30 A: 30 A audio system amp fuse
When using a substitute fuse, replace with a fuse of the correct capacity as soon as possible.
See also:
For the front seat
The cup holder is located in front of the floor console. Type 1 Type 2 To use the cup holder, open the lid. ...
System characteristics
The principle of the Auto Stop & Go (AS&G) system is that it adapts to the vehicle's needs (i.e. energy supply). This means that in certain circumstances the engine will not stop and in ...
To listen to the radio
1. Press the PWR switch (1) or the AM/FM button (2) to turn ON the radio. Press the PWR switch again to turn OFF the radio. 2. Press the AM/FM button (2) to select the desired band. 3. Turn the TUN ...