Engine compartment fuse location table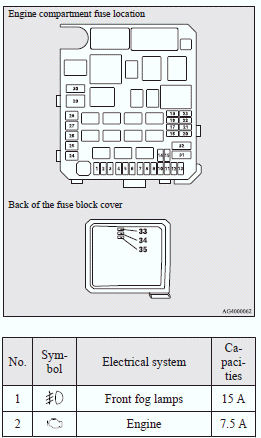 1: Except for petrol-powered vehicles equipped with turbocharger
2: Petrol-powered vehicles with turbocharger
3: Fusible link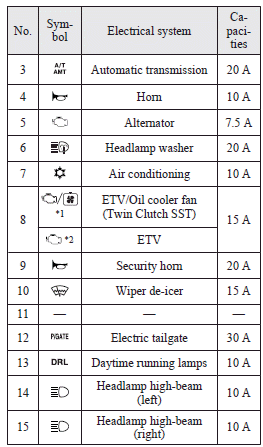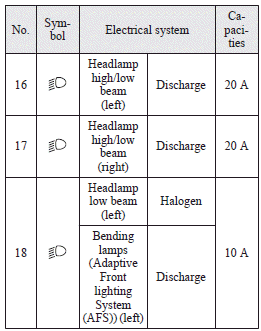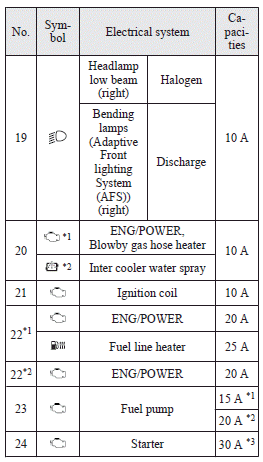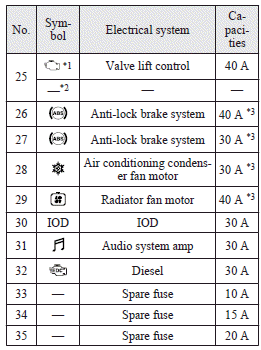 1: Except for petrol-powered vehicles equipped with turbocharger
2: Petrol-powered vehicles with turbocharger
3: Fusible link
► Some fuses may not be installed on your vehicle, depending on the vehicle model or specifications.
► The table above shows the main equipment corresponding to each fuse.
The fuse box does not contain spare 7.5 A, 25 A or 30 A fuses. If one of these fuses burns out, substitute with the following fuse.
7.5 A: 10 A spare fuse
25 A: 20 A spare fuse
30 A: 30 A audio system amp fuse
When using a substitute fuse, replace with a fuse of the correct capacity as soon as possible.
See also:
Reversing sensor system
This system operates when you are backing the vehicle. It uses corner and back sensors to detect an obstacle and sounds a buzzer to inform you of the approximate distance to the obstacle. CAUTION ...
Vehicles with Sports mode
The transmission has 4 forward gears and 1 reverse gear. The individual gears are selected automatically, depending on the position of the gear selector lever, the speed of the vehicle and the po ...
Hazard warning flasher switch
Use the hazard warning flasher switch when the vehicle has to be parked on the road for any emergency. The hazard warning flashers can always be operated, regardless of the position of the igni ...