Engine compartment fuse location table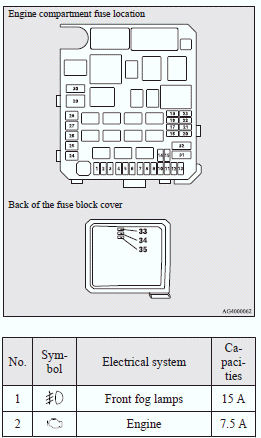 1: Except for petrol-powered vehicles equipped with turbocharger
2: Petrol-powered vehicles with turbocharger
3: Fusible link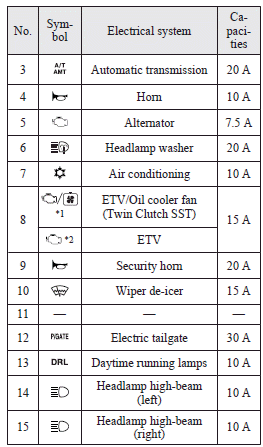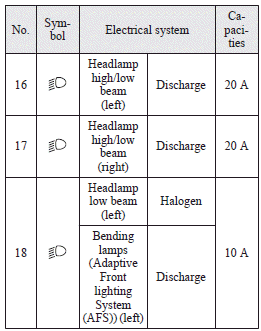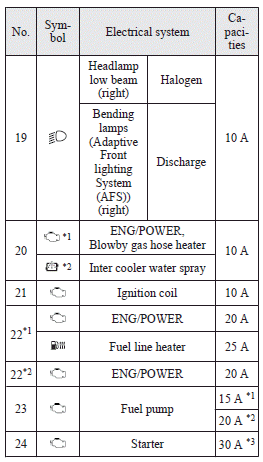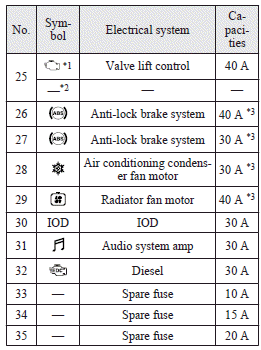 1: Except for petrol-powered vehicles equipped with turbocharger
2: Petrol-powered vehicles with turbocharger
3: Fusible link
► Some fuses may not be installed on your vehicle, depending on the vehicle model or specifications.
► The table above shows the main equipment corresponding to each fuse.
The fuse box does not contain spare 7.5 A, 25 A or 30 A fuses. If one of these fuses burns out, substitute with the following fuse.
7.5 A: 10 A spare fuse
25 A: 20 A spare fuse
30 A: 30 A audio system amp fuse
When using a substitute fuse, replace with a fuse of the correct capacity as soon as possible.
See also:
Dipper (High/Low beam change)
When the lamp switch is in the position, the beam changes from high to low (or low to high) each time the lever is pulled fully (1). While the highbeam is on, the high-beam indication lamp in t ...
Reversing sensor system
This system operates when you are backing the vehicle. It uses corner and back sensors to detect an obstacle and sounds a buzzer to inform you of the approximate distance to the obstacle. CAUTION ...
Cleaning the sunroof
Clean the inside of the sunroof with a soft cloth. Hard deposits should be wiped away with a cloth dipped in warm, neutral detergent solution. Wipe away the solution with a sponge dipped in fresh ...