Roof drip moulding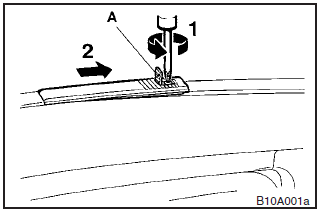 When installing the roof carrier, remove the roof drip moulding caps.
1. Open the cover (A) and remove the screws using a Philips screwdriver.
2. Remove the caps by sliding them.
After removal of the roof carrier, replace the roof drip moulding caps.
See also:
Wheel covers
To removeWrap the tip of the jack bar with a cloth, insert it deeply into the notch provided in the wheel cover, and pry the cover away from the wheel. Using the same procedure at the other wheel ...
Passenger compartment (RHD vehicles)
The fuse boxes in the passenger compartment are located behind the glove box at the position shown in the illustration. A- Main fuse block B- Sub fuse block 1. Open the glove box. 2. Move th ...
Fuel gauge
The fuel gauge indicates the fuel level in the fuel tank irrespective of the ignition switch position. 0- Empty 1- Full CAUTION Do not drive with an extremely low fuel level; running out of fue ...