CD control panel and display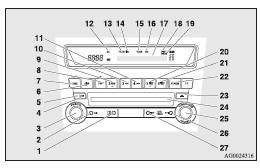 1- AM/FM button

2- CD (CD mode changeover) button

3- PWR (On-Off) switch

4- LOAD button*

5- LOAD indicator*

6- DISP (Display) button

7- PAGE (Title scroll) button

8- RPT (Repeat) button

9- RDM (Random) button

10-

(Fast-reverse) button

11-

(Fast-forward) button

12- CD indicator

13- FOLDER indicator

14- DISC (Disc) indicator*

15- TRACK (Track number) indicator

16- TAG (Tag) indicator

17- Display

18- RPT (Repeat indicator)/D-RPT indicator

19- RDM (Random mode indicator)/D-RDM indicator

20- DISC (Disc down) button*

21- DISC (Disc up) button*

22- SCAN button

23- Eject button

24- CD insertion slot

25- FOLDER switch

26-
(Track up) button

27-

(Track down) button
See also:
Safety
A 2013 base Lancer with front-wheel drive scores an overall four out of five stars in National Highway Traffic Safety Administration crash tests. The Lancer receives the Insurance Institute for Hi ...
Leg area heating
Set the mode selection dial to the position shown in the illustration and set the air selection switch (A) to the outside position. Adjust the temperature by turning the temperature control dial ...
Operating hints
► Do not let the clutch slip (vehicles equipped with M/T only) and do not increase the engine speed more than necessary when starting. ► Be sure that the driving speed does not exceed 1 ...