CD control panel and display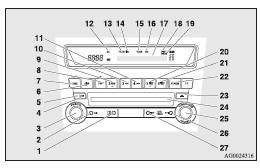 1- AM/FM button

2- CD (CD mode changeover) button

3- PWR (On-Off) switch

4- LOAD button*

5- LOAD indicator*

6- DISP (Display) button

7- PAGE (Title scroll) button

8- RPT (Repeat) button

9- RDM (Random) button

10-

(Fast-reverse) button

11-

(Fast-forward) button

12- CD indicator

13- FOLDER indicator

14- DISC (Disc) indicator*

15- TRACK (Track number) indicator

16- TAG (Tag) indicator

17- Display

18- RPT (Repeat indicator)/D-RPT indicator

19- RDM (Random mode indicator)/D-RDM indicator

20- DISC (Disc down) button*

21- DISC (Disc up) button*

22- SCAN button

23- Eject button

24- CD insertion slot

25- FOLDER switch

26-
(Track up) button

27-

(Track down) button
See also:
Parking
Parking on a slope Fully engage the parking brake, and then move the gearshift lever to 1st (on an uphill) or reverse (on a downhill) position on manual transmission vehicle. On automatic transmi ...
Cargo floor boxes
The boxes for storing articles are located inside the luggage compartment. To use the boxes, raise the lids (A). ...
Washer fluid
The windscreen washer fluid reservoir is in the engine compartment. Check the washer fluid level at regular intervals and add washer fluid to reservoir if necessary. Open the reservoir cap and che ...