Sunshade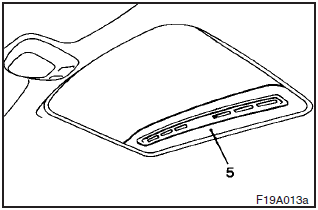 Slide the sunshade (5) manually to open and close it.
NOTE
The sunshade will operate together with the sunroof only when the sunroof is opened.
CAUTION
Do not attempt to close the sunshade when the sunroof is opened.
WARNING
(1) Do not put head, hands or anything else out of the sunroof opening while driving the vehicle.
(2) Never leave a child (or other person who might not be capable of safe operation of the sunroof switch) in the vehicle alone.
(3) Before operating the sunroof, make sure that nothing is capable of being trapped (head, hand, finger, etc.).
NOTE
(1) When leaving the vehicle unattended, make sure you close the sunroof and remove the ignition key.
(2) Do not try to operate the sunroof if it is frozen closed (after snow fall or during extreme cold).
(3) Do not sit or place heavy luggage on the sunroof or roof opening edge. Do not apply any force that may cause damage to the sunroof.
(4) Release the switch as soon as the sunroof reaches the fully open or fully closed position.
(5) If the sunroof would not operate when the sunroof switch is operated, release the switch and check whether something is trapped by the sunroof. If nothing is trapped, have the sunroof checked at an authorized MITSUBISHI dealer.
(6) Depending on the models of ski carriers or roof carriers, the sunroof may contact with the carrier when the sunroof is tilted up. Be careful when tilting up the sunroof if such a ski carrier or a roof carrier is installed.
(7) Be sure to close the sunroof completely when washing the vehicle or when leaving the vehicle.
(8) Be careful, not to put any wax on the weatherstrip (black rubber) around the sunroof opening. If stained with wax, the weatherstrip cannot maintain a weatherproof seal with the sunroof.
(9) After washing the vehicle or after it has rained, wipe off any water that is on the sunroof before operating it.
(10) Operating the sunroof repeatedly with the engine stationary will run down the battery. Operate the sunroof while the engine is running.
See also:
Safe driving techniques
Driving safety and protection against injury cannot be fully ensured. However, we recommend that you pay extra attention to the following: Seat belts Before starting the vehicle, make sure that yo ...
Front room & map lamps
1 (DOOR) - The lamp illuminates when a door or the rear hatch is opened. It goes off about 15 seconds after the door or rear hatch is closed. However, the lamp goes off immediately in the follow ...
Changing the display language
The language of the multi-information display can be switched. 1. Press and hold the multi-information meter switch for about 2 seconds or more to switch from the setting mode screen to the menu sc ...