Driving range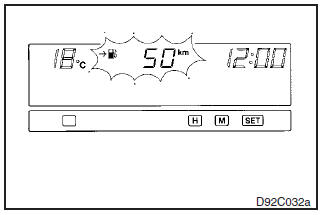 For vehicles with MITSUBISHI genuine audio, driving range can be displayed.
This value shows the distance (in km or miles) that can be driven on the fuel remaining in the fuel tank.
NOTE
(1) When the driving range is displayed, if the driving range drops below 50 km (30 miles), alarm sounds and the display shows a flashing. When this occurs, top up the fuel tank as soon as possible.
Even when an item other than the driving range is currently displayed, the alarm sounds and the driving range appears for 5 seconds when the driving range drops to the 50 km, 25 km and 10 km (or 30 miles, 15 miles and 6 miles) levels. Then, the original item is again displayed.
(2) The driving range varies depending on road conditions, the manner of driving and other related factors. Consequently, the display should be used only as a guide; top up the fuel tank as soon as possible.
See also:
Instruments and controls
LHD 1. Combination headlamps and dipper switch Turn-signal lever Front fog lamp switch* Rear fog lamp switch Headlamp washer switch* 2. Instruments 3. Shift paddles* 4. Windscreen ...
Fuses
Fuse block location To prevent damage to the electrical system due to shortcircuiting or overloading, each individual circuit is provided with a fuse. There are fuse blocks in the passenger compar ...
Deployment of side airbags and curtain airbags
The side airbags and curtain airbags ARE DESIGNED TO DEPLOY when… The side airbags and curtain airbags are designed to deploy when the vehicle suffers a moderate-tosevere side impact to the middl ...