Driving range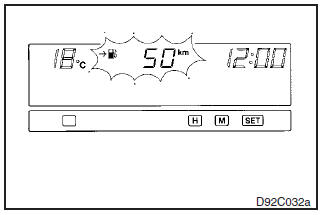 For vehicles with MITSUBISHI genuine audio, driving range can be displayed.
This value shows the distance (in km or miles) that can be driven on the fuel remaining in the fuel tank.
NOTE
(1) When the driving range is displayed, if the driving range drops below 50 km (30 miles), alarm sounds and the display shows a flashing. When this occurs, top up the fuel tank as soon as possible.
Even when an item other than the driving range is currently displayed, the alarm sounds and the driving range appears for 5 seconds when the driving range drops to the 50 km, 25 km and 10 km (or 30 miles, 15 miles and 6 miles) levels. Then, the original item is again displayed.
(2) The driving range varies depending on road conditions, the manner of driving and other related factors. Consequently, the display should be used only as a guide; top up the fuel tank as soon as possible.
See also:
Trailer towing
In order to tow a trailer with your vehicle, have a trailer towing device that meets all relevant regulations in your area, mounted at an authorised MITSUBISHI dealer. The regulations concerning ...
Reversing sensor system operation indication lamp
In case there is a malfunction in the reversing sensor system, the reversing sensor system operation indication lamp will blink and the warning buzzer will sound for approximately 5 seconds. Even ...
Reliability, Safety & Pricing
The strongest case for the Outlander is its track record. Front, side and rear crash-test scores from the Insurance Institute for Highway Safety have been exemplary, helping make the Outlander an ...