Driving range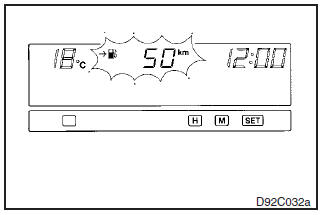 For vehicles with MITSUBISHI genuine audio, driving range can be displayed.
This value shows the distance (in km or miles) that can be driven on the fuel remaining in the fuel tank.
NOTE
(1) When the driving range is displayed, if the driving range drops below 50 km (30 miles), alarm sounds and the display shows a flashing. When this occurs, top up the fuel tank as soon as possible.
Even when an item other than the driving range is currently displayed, the alarm sounds and the driving range appears for 5 seconds when the driving range drops to the 50 km, 25 km and 10 km (or 30 miles, 15 miles and 6 miles) levels. Then, the original item is again displayed.
(2) The driving range varies depending on road conditions, the manner of driving and other related factors. Consequently, the display should be used only as a guide; top up the fuel tank as soon as possible.
See also:
SRS warning lamp/display
Warning lamp If there is an error in the system, the warning lamp will come on and the warning display will appear on the information screen in the multi-information display. Under normal cond ...
Refill capacities
NOTE: ● Points requiring routine inspection or replenishment such as the engine oil, washer fluid and brake/clutch fluid are marked white for easy identification. ...
Economical driving
For economical driving, there are some technical requirements that have to be met. The prerequisite for low fuel consumption is a properly adjusted engine. In order to achieve longer life of the ve ...