Running-in recommendations
During the running-in period for the first 1,000 km, it is advisable to drive your new vehicle using the following precautions as a guideline to aid long life as well as future economy and performance.
(1) Do not race the engine at high speeds.
(2) Avoid rapid starting, accelerating, braking and prolonged high-speed running.
(3) Keep to the running-in speed limit shown below.
Please note that the legal speed limits displayed must be adhered to.
(4) Do not exceed loading limits.
(5) Refrain from towing a trailer.
Vehicles with manual transmission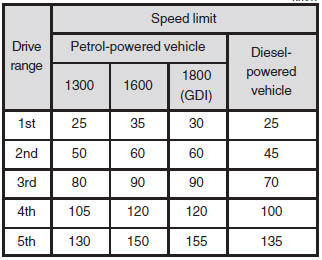 Vehicles with automatic transmission INVECS-II 4A/T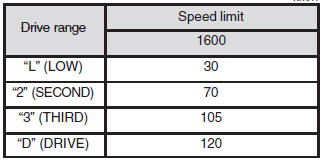 Vehicles with automatic transmission INVECS-II Sport Mode 4A/T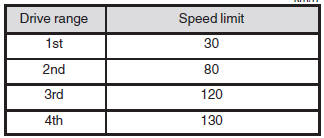 See also:
Introduction of outside air
To introduce air into the vehicle during hot weather, set the air selection switch (A) to the outside position and set the temperature control dial to the position shown in the illustration. Be ...
Parking brake break-in
Break-in the parking brake linings whenever the brake performance of the parking brake is insufficient or whenever the parking brake linings and/or discs are replaced, in order to assure the best ...
Not Too Quick
The four-cylinder provides adequate, if noisy, power. A continuously variable automatic transmission is standard; it's not the quickest responder around town, taking its time to gin up the proper ...