Running-in recommendations
During the running-in period for the first 1,000 km, it is advisable to drive your new vehicle using the following precautions as a guideline to aid long life as well as future economy and performance.
(1) Do not race the engine at high speeds.
(2) Avoid rapid starting, accelerating, braking and prolonged high-speed running.
(3) Keep to the running-in speed limit shown below.
Please note that the legal speed limits displayed must be adhered to.
(4) Do not exceed loading limits.
(5) Refrain from towing a trailer.
Vehicles with manual transmission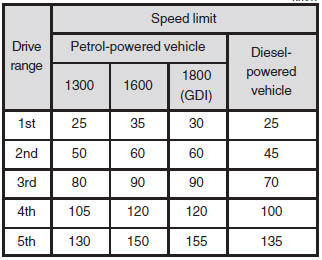 Vehicles with automatic transmission INVECS-II 4A/T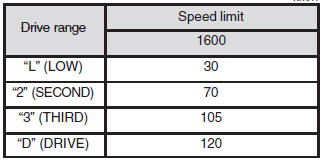 Vehicles with automatic transmission INVECS-II Sport Mode 4A/T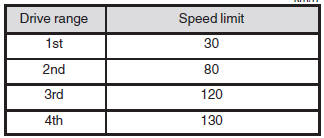 See also:
Washer fluid
Open the washer fluid reservoir cap and check the level of washer fluid with the dipstick. If the level is low, replenish the container with washer fluid. NOTE: ● The washer fluid contain ...
Engine overheating
If the water temperature gauge indication remains in the overheating zone for a long time, the engine may be overheating. If this occurs, take the following corrective measures : 1. Stop the vehi ...
Headlamp levelling
Except for vehicles with discharge headlamps The angle of the headlamp beam varies depending upon the load carried by the vehicle. The headlamp levelling switch can be used to adjust the headlam ...