Running-in recommendations
During the running-in period for the first 1,000 km, it is advisable to drive your new vehicle using the following precautions as a guideline to aid long life as well as future economy and performance.
(1) Do not race the engine at high speeds.
(2) Avoid rapid starting, accelerating, braking and prolonged high-speed running.
(3) Keep to the running-in speed limit shown below.
Please note that the legal speed limits displayed must be adhered to.
(4) Do not exceed loading limits.
(5) Refrain from towing a trailer.
Vehicles with manual transmission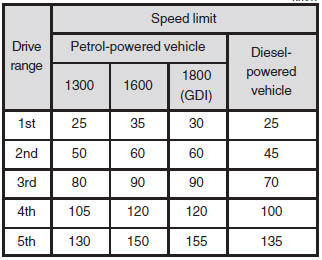 Vehicles with automatic transmission INVECS-II 4A/T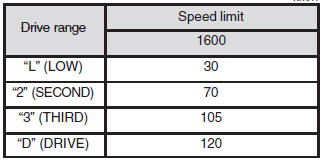 Vehicles with automatic transmission INVECS-II Sport Mode 4A/T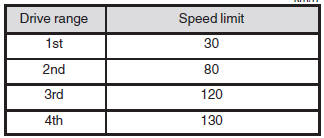 See also:
If the DPF warning display illuminates during vehicle operation
Steady illumination of the DPF warning display shows that the DPF has not been able to burn away all of the trapped PM and that, as a result, an excessive amount of PM has accumulated inside it. T ...
SCV (Speed Compensated Volume) function
SCV function is a feature that automatically adjusts the VOLUME, BASS, MID, and TREBLE settings in accordance with the vehicle speed. The SCV function can be turned ON and OFF. Refer to "Function ...
Blower speed selection dial
Select the blower speed by turning the blower speed selection dial clockwise or anticlockwise. The blower speed will gradually increase as the dial is turned to the right. ...