Changing gears
Always use care to change the gear with the vehicle speed matched to the engine speed. Proper shifting will improve fuel economy and prolong engine life.
Avoid shifting down at high speed, as this may cause excessive engine speed (on vehicles with a tachometer, the tachometer needle into the red zone) and damage the engine.
Economical driving speed
The following shift points are recommended to assist fuel economy. The driver may vary these points to suit driving conditions and load.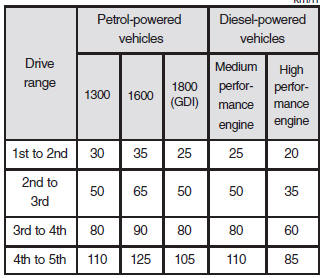 Possible driving speed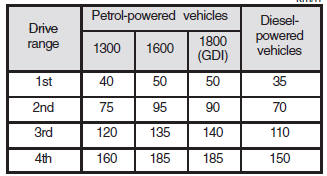 5th gear is an overdrive ratio and its use reduces engine speed below that of the 4th gear. Use 5th gear whenever vehicle speed allows, for maximum fuel economy.
See also:
Polishing
The vehicle should only be polished if the paintwork has become stained or lost its lustre. Matt-finish parts and plastic bumpers must not be polished, polishing these parts will stain them or dam ...
Modification/alterations to the electrical or fuel systems
MITSUBISHI MOTORS CORPORATION has always manufactured safe, high quality vehicles. In order to maintain this safety and quality, it is important that any accessory that is to be fitted, or any mod ...
Connection of a CD player or a CD autochanger
This radio may be connected to the MITSUBISHI Genuine CD player or CD autochanger. Consult an authorized MITSUBISHI dealer for more details. 1- PWR (On-off switch) 2- U/M/L button 3- CD (CD mode c ...