Changing gears
Always use care to change the gear with the vehicle speed matched to the engine speed. Proper shifting will improve fuel economy and prolong engine life.
Avoid shifting down at high speed, as this may cause excessive engine speed (on vehicles with a tachometer, the tachometer needle into the red zone) and damage the engine.
Economical driving speed
The following shift points are recommended to assist fuel economy. The driver may vary these points to suit driving conditions and load.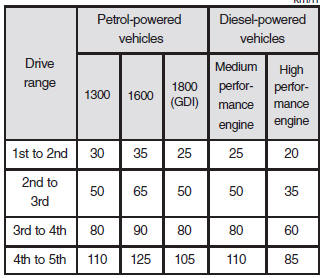 Possible driving speed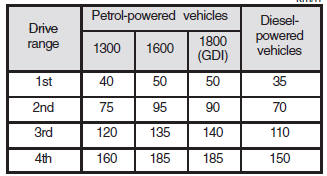 5th gear is an overdrive ratio and its use reduces engine speed below that of the 4th gear. Use 5th gear whenever vehicle speed allows, for maximum fuel economy.
See also:
Handling of cassette tapes
CAUTION To maintain the cassette tape player in good condition, observe the following precautions. (1) Do not use cassette tapes longer than C-90, otherwise sound quality and tape durability wil ...
Vehicle information code plate
The vehicle information code plate is riveted as shown in the illustration. The plate shows model code, engine model, transmission model and body colour code, etc. Please use this number when or ...
Electronically controlled 4WDsystem
The electronically controlled 4WD system is a 4- wheel drive system that allows one of three drive modes to be selected with a dial, in accordance with the driving conditions. The following drive ...