How to enter frequencies in the memory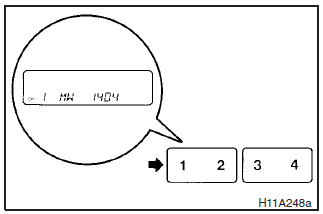 Manual setting
You can assign to the memory select buttons (8) a maximum of 12 stations in the UKW band (6 U1 stations and 6 U2 stations), 6 stations in the MW band and 6 stations in the LW band. (Stations already assigned to the memory select buttons are replaced by any newly assigned stations.)
Follow the steps described below.
1. Press either the TUNE/SEEK button (6 or 7) to tune the frequency to be entered in the memory.
2. Press one of the memory select buttons (8) for about 2 seconds or longer. The sound will be momentarily interrupted while the frequency is being entered into the memory.> The number of the button corresponding to the entry in the memory and the frequency are displayed.> 3. The preset memory setting is retrieved by pressing the button and then releasing it within 2 seconds.
Automatic setting
With the method, all manually set stations in the band currently selected for reception are replaced with stations in the same band that are automatically selected in order of signal strength. The radio automatically selects 12 stations in the UKW band and 6 stations each in the MW and LW band.
Follow the steps described below.
1. With the radio mode selected, hold down the U/M/L button (3) until a beep is emitted. The 6 stations with the best signal strength will automatically be assigned to the memory select buttons (8), with the lowest-frequency station being assigned to the lowestnumber button.
2. When you subsequently press a memory select button to select a channel number, the radio will begin receiving the station assigned to that number.
See also:
If the DPF warning display illuminates during vehicle operation
Steady illumination of the DPF warning display shows that the DPF has not been able to burn away all of the trapped PM and that, as a result, an excessive amount of PM has accumulated inside it. T ...
Cup holder
Caution ► Do not drink beverages while driving the vehicle; doing so could distract you and result in an accident. ► Beverages can spill due to vibration or other movement during vehi ...