How to enter frequencies in the memory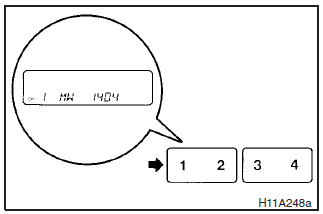 Manual setting
You can assign to the memory select buttons (8) a maximum of 12 stations in the UKW band (6 U1 stations and 6 U2 stations), 6 stations in the MW band and 6 stations in the LW band. (Stations already assigned to the memory select buttons are replaced by any newly assigned stations.)
Follow the steps described below.
1. Press either the TUNE/SEEK button (6 or 7) to tune the frequency to be entered in the memory.
2. Press one of the memory select buttons (8) for about 2 seconds or longer. The sound will be momentarily interrupted while the frequency is being entered into the memory.> The number of the button corresponding to the entry in the memory and the frequency are displayed.> 3. The preset memory setting is retrieved by pressing the button and then releasing it within 2 seconds.
Automatic setting
With the method, all manually set stations in the band currently selected for reception are replaced with stations in the same band that are automatically selected in order of signal strength. The radio automatically selects 12 stations in the UKW band and 6 stations each in the MW and LW band.
Follow the steps described below.
1. With the radio mode selected, hold down the U/M/L button (3) until a beep is emitted. The 6 stations with the best signal strength will automatically be assigned to the memory select buttons (8), with the lowest-frequency station being assigned to the lowestnumber button.
2. When you subsequently press a memory select button to select a channel number, the radio will begin receiving the station assigned to that number.
See also:
Inside rear-view mirror
The lever (A) at the bottom of the mirror can be used to adjust the mirror to reduce the glare from the headlamps of vehicles behind you during night driving. 1- Normal 2- Anti-glare WARNING Do ...
Driving hints
(1) With ABS fitted, steering during sudden braking (when the ABS functions) differs slightly from when the brakes are not being applied. Steer the vehicle carefully in these conditions. (2) Alwa ...
Parking brake
To park the vehicle, first bring it to a complete stop, fully engage the parking brake. To apply 1- Firmly depress and hold the brake pedal, then pull the lever up without pushing the button a ...