Automatic air conditioning*
The air conditioning can only be operated while the engine is running.
CAUTION
When using the air conditioning, the idling speed may slightly increase as the air conditioning compressor is switched on/off automatically. Especially for vehicles with an automatic transmission, while the vehicle is stationary, fully depress the brake pedal to prevent the vehicle from creeping.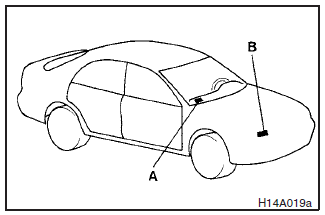 NOTE
(1) There is a photo sensor, atmosphere temperature sensor and interior air temperature sensor inside the vehicle.
A- Photo sensor
B- Atmosphere temperature sensor
C- Interior air temperature sensor
Never place anything on top of the cover of these sensors, doing so will prevent them from functioning properly.
(2) The cool air form the ventilators may appear as a mist. This is due to moist air being suddenly cooled by the air conditioning. This will clear after a few moments.