Wheel covers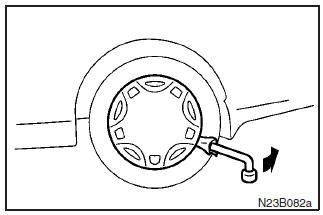 To remove
Wrap the tip of the wheel nut wrench with a cloth, insert it at the edge of the wheel cover, and pry the cover away from the wheel.
NOTE
The wheel cover is made of plastic; take care when prying it off.
CAUTION
Removing the cover with your hands may cause injury to the fingers.
See also:
Licence plate lamps
1. Remove while pressing the lamp unit (A) to the left side. 2. Insert a minus screwdriver with the end covered with a cloth or other object to press the hook (B) aside and remove the lens. 3. ...
Checking battery electrolyte level
The electrolyte level must be between the specified limit on the outside of the battery. Replenish with distilled water as necessary. The inside of the battery is divided into several compartment ...
Child restraint
When transporting children in your vehicle, some type of child restraint system should always be used according to the size of the child. This is required by law in most countries. The regulation ...