Clutch pedal free play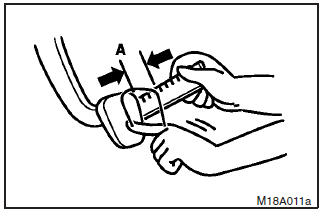 Press down the clutch pedal with your fingers until initial resistance is felt. This distance should be within the specified range.
A- Free play: 6 to 13 mm
If the clutch pedal free play is not within the standard range, have the clutch pedal adjusted at an authorized MITSUBISHI dealer.
See also:
Mitsubishi Lancer GT in the Market
Retail-priced Lancers shouldn't entice buyers because of how the dated Mitsubishi stacks up against the great crop of sedans at similar prices with better gas mileage. As of this writing, browsing ...
On a bumpy or rutted road
Drive as slow as possible when driving on bumpy or rutted roads. Caution ► The impact on tyres and/or wheels when driving on a bumpy or rutted road can damage the tyre and/or wheel. ► ...
Additional equipment (For regions where snow is encountered)
It is a good idea to carry a shovel or a short-handled spade in the vehicle during the winter so that you can clear away snow if you get stranded. A small hand-brush for sweeping snow off the vehi ...