Vehicle information code plate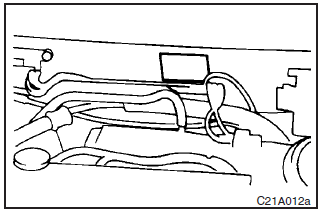 The vehicle information code plate is riveted as shown in the illustration.
The plate shows model code, engine model, transmission model and body colour code, etc.
Please use this number when ordering replacement parts.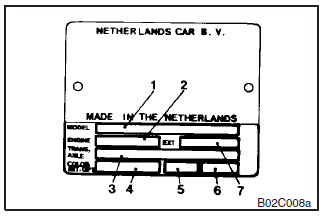 1- Model code
2- Engine model code
3- Transmission model code
4- Body colour code
5- Interior code
6- Option code
7- Exterior code
See also:
Momentary fuel consumption display
While driving, this displays the momentary fuel consumption, using a bar graph. When the momentary fuel consumption surpasses the average fuel consumption, the momentary fuel consumption is displ ...
Replacement of lamp bulbs
Before replacing a bulb, ensure the lamp is off. Do not touch the glass part of the new bulb with your bare fingers; the skin oil left on the glass will evaporate when the bulb gets hot and the va ...
Aluminium wheels
A protective coating is provided over the aluminium type wheels. Clean aluminium wheels with a cleaner designed for use on aluminium and apply an appropriate protection agent. NOTE (1) When clean ...