Floor mats

Warning
► Keep floor mats clear of the pedals by correctly laying floor mats that are suitable for the vehicle.
To prevent the floor mats from slipping out of position, securely retain them using the hook etc.
Note that laying a floor mat over a pedal or laying one floor mat on top of another can obstruct pedal operation and lead to a serious accident.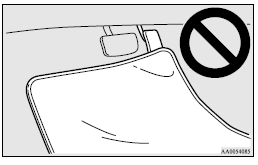 See also:
During cold weather
The concentration should be checked before the start of cold weather and anti-freeze added to the system if necessary to prevent damage to engine and radiator due to freezing. ...
Hazard warning flasher switch
Use the hazard warning flasher switch when the vehicle has to be parked on the road for any emergency. The hazard warning flashers can always be operated, regardless of the position of the igni ...
Headlamps (high-beam, except for vehicles with high intensity discharge headlamps)
1. When replacing the bulb on the right side of the vehicle, remove the bolt (A) holding down the washer tank spout and move the spout towards the rear of the vehicle. : Front of the vehicle 2 ...