Turbocharger operation

Caution
► Do not run the engine at high speeds (for example, by revving it or by accelerating rapidly) immediately after starting it.
► Do not stop the engine immediately after high-speed or uphill driving. First allow the engine to idle to give the turbocharger a chance to cool down.
Turbocharger
The turbocharger increases engine power by pushing large amounts of air into the engine's cylinders.
The finned parts inside the turbocharger turn at extremely high speeds and are subjected to extremely high temperatures. They are lubricated and cooled by engine oil. If the engine oil is not replaced at the specified intervals, the bearings may seize or emit abnormal noise.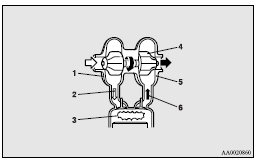 1- Air compressor
2- Compressed air
3- Cylinder
4- Turbo fin
5- Turbine
6- Exhaust gas
See also:
Snow tyres
The use of snow tyres is recommended for driving on snow and ice. To preserve driving stability, mount snow tyres of the same size and tread pattern on all four wheels. Snow tyres worn more than ...
Seat belt inspection
● Check the belts for cuts, worn or frayed webbing and for cracked or deformed metallic parts. Replace the belt assembly if defective. ● A dirty belt should be cleaned with neutral dete ...
Control panel
A- Temperature control dial B- Air selection switch C- Blower speed selection dial D- Mode selection dial E- Rear window demister switch Note ► Button (F) is not available for use. The ...