Turbocharger operation

Caution
► Do not run the engine at high speeds (for example, by revving it or by accelerating rapidly) immediately after starting it.
► Do not stop the engine immediately after high-speed or uphill driving. First allow the engine to idle to give the turbocharger a chance to cool down.
Turbocharger
The turbocharger increases engine power by pushing large amounts of air into the engine's cylinders.
The finned parts inside the turbocharger turn at extremely high speeds and are subjected to extremely high temperatures. They are lubricated and cooled by engine oil. If the engine oil is not replaced at the specified intervals, the bearings may seize or emit abnormal noise.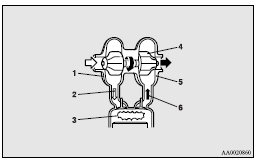 1- Air compressor
2- Compressed air
3- Cylinder
4- Turbo fin
5- Turbine
6- Exhaust gas
See also:
Manual shift
Using the gearshift lever (A) or the shift paddles (B), shifting can be performed manually. Shifting can be performed even while the accelerator pedal is depressed. This allows the driver to enj ...
Cargo area cover
To use 1. Draw out the cover retracted by spring and insert it in the mounting grooves (A). 2. Remove the cover from the mounting grooves, and the cover will be rolled back into the retracted ...
Change of air selection
Every time the air selection switch is pressed, alteration is made between outside air introduction and inside air recirculation. When inside air is recirculated, the indicator lamp (A) comes on ...