ASC warning display
If an abnormal condition occurs in the system, the following display/indicator will turn on.

- ASC indicator

- ASC OFF display/ASC OFF indicator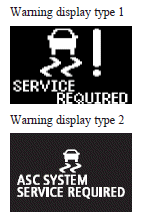 Note
► The combination of items shown on the display varies depending on the vehicle model.

Caution
► The system may be malfunctioning.
Park your vehicle in a safe place and stop the engine. Restart the engine and check whether the display/indicator goes out. If they go out, there is no abnormal condition.
If they do not go out or appear frequently, it is not necessary to stop the vehicle immediately, but we recommend you to have your vehicle inspected.
See also:
2012 Mitsubishi Outlander Review
After spending a couple of weeks test-driving the 2012 Mitsubishi Outlander, I've decided it's a great car for dads. Compared to many moms, dads tend to keep their parenting style as simple as pos ...
Running-in recommendations
During the running-in period for the first 1,000 km, it is advisable to drive your new vehicle using the following precautions as a guideline to aid long life as well as future economy and perform ...
SRS servicing
The entire SRS including air bag and pretensioner seat belt must be inspected by an authorized MITSUBISHI dealer after 10 years. WARNING (1) Any maintenance performed on or near the components of ...