ASC warning display
If an abnormal condition occurs in the system, the following display/indicator will turn on.

- ASC indicator

- ASC OFF display/ASC OFF indicator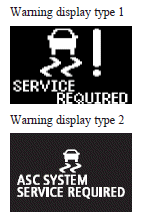 Note
► The combination of items shown on the display varies depending on the vehicle model.

Caution
► The system may be malfunctioning.
Park your vehicle in a safe place and stop the engine. Restart the engine and check whether the display/indicator goes out. If they go out, there is no abnormal condition.
If they do not go out or appear frequently, it is not necessary to stop the vehicle immediately, but we recommend you to have your vehicle inspected.
See also:
4-wheel drive operation
Your vehicle has been designed primarily for use on pavement. But its unique 4-wheel drive system allows you to occasionally travel on unpaved roads, to campgrounds, picnic sites, and similar locat ...
Child restraint
When transporting children in your vehicle, some type of child restraint system should always be used according to the size of the child. This is required by law in most countries. The regulation ...
Cargo net*
To use, attach the cargo net to the hooks as shown in the illustration. ...