ASC warning display
If an abnormal condition occurs in the system, the following display/indicator will turn on.

- ASC indicator

- ASC OFF display/ASC OFF indicator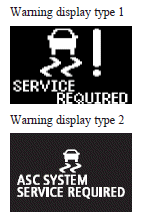 Note
► The combination of items shown on the display varies depending on the vehicle model.

Caution
► The system may be malfunctioning.
Park your vehicle in a safe place and stop the engine. Restart the engine and check whether the display/indicator goes out. If they go out, there is no abnormal condition.
If they do not go out or appear frequently, it is not necessary to stop the vehicle immediately, but we recommend you to have your vehicle inspected.
See also:
Operation of the Twin Clutch SST
Caution ► Before selecting a position with the engine running and the vehicle stationary, fully depress the brake pedal to prevent the vehicle from creeping. The vehicle will begin to move ...
Driving hints
(1) TCL does not actively apply brakes. Always decelerate the vehicle sufficiently before entering corners or bends. (2) On snowy or icy roads, drive slowly using tyre chains or snow tyres. (3) Wh ...
Auto Stop & Go (AS&G) system
The Auto Stop & Go (AS&G) system automatically stops and restarts the engine without operating the ignition switch or the engine switch when the vehicle is stopped, such as at a traffic li ...