ASC warning display
If an abnormal condition occurs in the system, the following display/indicator will turn on.

- ASC indicator

- ASC OFF display/ASC OFF indicator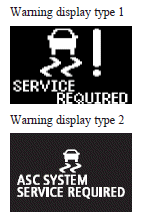 Note
► The combination of items shown on the display varies depending on the vehicle model.

Caution
► The system may be malfunctioning.
Park your vehicle in a safe place and stop the engine. Restart the engine and check whether the display/indicator goes out. If they go out, there is no abnormal condition.
If they do not go out or appear frequently, it is not necessary to stop the vehicle immediately, but we recommend you to have your vehicle inspected.
See also:
Operation under adverse driving conditions
On a flooded road ● Avoid flooded roads. Water could enter the brake discs, resulting in temporarily ineffective brakes. In such cases, lightly depress the brake pedal to see if the brakes ...
Keyless operation system
The keyless operation system allows you to lock and unlock the doors and tailgate and start the engine simply by carrying the keyless operation key with you. The keyless operation key can also be u ...
Phone book function
The BluetoothВ® 2.0 interface has 2 types of unique phone books that are different from the phone book stored in the cellular phone. They are the vehicle phone book and the mobile phone book. The ...