CD control panel and display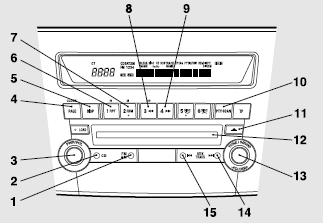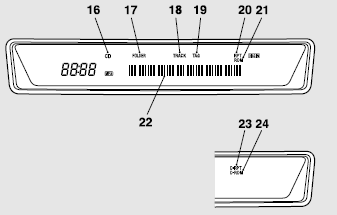 1- AM/FM button
2- CD (CD mode changeover) button
3- PWR (On-Off) switch
4- PAGE (Title scroll) button
5- DISP (Display) button
6- RPT (Repeat) button
7- RDM (Random) button
8-

(Fast-reverse) button
9-

(Fast-forward) button
10- SCAN button
11- Eject button
12- Disc-loading slot
13- FOLDER switch
14-

(Track up) button
15-

(Track down) button
16- CD indicator
17- FOLDER indicator
18- TRACK (Track number) indicator
19- TAG (Tag) indicator
20- RPT (Repeat) indicator
21- RDM (Random) indicator
22- Display
23- D-RPT indicator
24- D-RDM indicator
See also:
Reliability, Safety & Pricing
The strongest case for the Outlander is its track record. Front, side and rear crash-test scores from the Insurance Institute for Highway Safety have been exemplary, helping make the Outlander an ...
Waxing
Waxing the vehicle will help prevent the adherence of dust and road chemicals to the paintwork. Apply a wax solution after washing the vehicle, or at least once every three months to assist displa ...
Operating the air conditioning system
Heating Set the mode selection dial to the position and set the air selection switch (A) to the outside position. Turn the temperature control dial clockwise or anticlockwise to the desired temper ...