CD control panel and display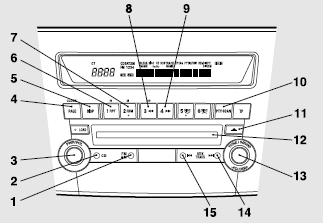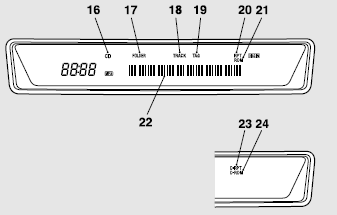 1- AM/FM button
2- CD (CD mode changeover) button
3- PWR (On-Off) switch
4- PAGE (Title scroll) button
5- DISP (Display) button
6- RPT (Repeat) button
7- RDM (Random) button
8-

(Fast-reverse) button
9-

(Fast-forward) button
10- SCAN button
11- Eject button
12- Disc-loading slot
13- FOLDER switch
14-

(Track up) button
15-

(Track down) button
16- CD indicator
17- FOLDER indicator
18- TRACK (Track number) indicator
19- TAG (Tag) indicator
20- RPT (Repeat) indicator
21- RDM (Random) indicator
22- Display
23- D-RPT indicator
24- D-RDM indicator
See also:
Turn-signal lever
1- Turn-signals. When making a normal turn, use position (1). The lever will return automatically when cornering is completed. 2- Lane-change signals. When moving the lever to (2) slightly to c ...
Modification/alterations to the electrical orfuel systems
MITSUBISHI MOTORS CORPORATION has always manufactured safe, high quality vehicles. In order to maintain this safety and quality, it is important that any accessory that is to be fitted, or any mod ...
Side air bag system (front seat only)
The side air bags are contained in the driver and front passenger seatbacks. The label shown here is attached to the seatbacks with a side air bag. The side air bag is designed to inflate only o ...