iPod control panel and display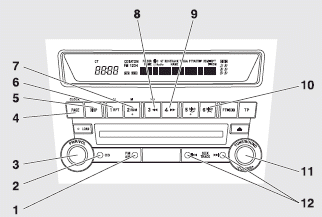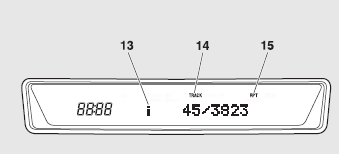 1- AM/FM button
2- CD (Mode change) button
3- PWR (On-Off) button
4- PAGE (Title scroll) button
5- DISP (Title display) button
6- RPT (Repeat) button
7- RDM (Random) button
8-

(Fast-reverse) button
9-

(Fast-forward) button
10- DISC UP button
11- FOLDER switch
12- TRACK (Track up/down) button
13- i (iPod) indicator
14- TRACK indicator
15- RPT/RDM/D-RDM indicator
See also:
How to enter PTYs in the memory
As many as 6 PTYs can be entered in the memory. Follow the steps described below. 1. Press either the TUNE/SEEK button (5 or 6) to tune the PTY to be entered in the memory. 2. Press one of the mem ...
Turn-signal lever
1- Turn-signals. When making a normal turn, use position (1). The lever will return automatically when cornering is completed. 2- Lane-change signals. When moving the lever to (2) slightly to c ...
Traction control (TCL)*
On slippery surfaces, traction control (TCL) prevents the drive wheels (front wheels) from excessive spinning, thus helping the vehicle to start easily. ...