iPod control panel and display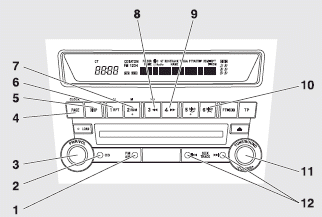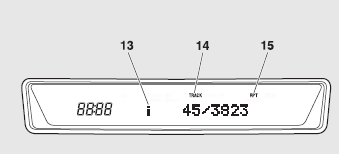 1- AM/FM button
2- CD (Mode change) button
3- PWR (On-Off) button
4- PAGE (Title scroll) button
5- DISP (Title display) button
6- RPT (Repeat) button
7- RDM (Random) button
8-

(Fast-reverse) button
9-

(Fast-forward) button
10- DISC UP button
11- FOLDER switch
12- TRACK (Track up/down) button
13- i (iPod) indicator
14- TRACK indicator
15- RPT/RDM/D-RDM indicator
See also:
Child restraint
When transporting children in your vehicle, some type of child restraint system should always be used according to the size of the child. This is required by law in most countries. The regulation ...
Washer fluid
Open the washer fluid reservoir cap and check the level of washer fluid with the dipstick. If the level is low, replenish the container with washer fluid. NOTE • The washer fluid container s ...
Vehicle equipped with steel wheels
Tighten the wheel nuts (tapered nuts) until the tapered parts of the wheel nuts make light contact with the seats of the wheel holes and the wheel is not loose. With a spare wheel, tighten the whee ...