Bottle holder

Caution
► Do not drink beverages while driving the vehicle; doing so could distract you and result in an accident.
► Beverages can spill due to vibration or other movement during vehicle operation.
Be careful not to get scalded by a hot beverage if spilled

Note
► Make sure the cap of any plastic bottle placed in a bottle holder is tightly closed.
► The bottle holders may not accommodate bottles of certain shapes and sizes.
For the front seat
The bottle holders are provided at both sides.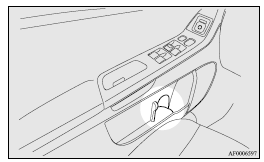 See also:
Hazard warning flasher switch
Use the hazard warning flasher switch when the vehicle has to be parked on the road for any emergency. The hazard warning flashers can always be operated, regardless of the position of the igni ...
Keyless entry system
Press the remote control switch, and all doors and the rear hatch will be locked or unlocked as desired. It is also possible to operate the outside rear-view mirrors. 1- LOCK switch 2- UNLOCK s ...
Headlamps
NOTE • When entering a country in which vehicles are driven on the opposite side of the road to the country in which your vehicles is supplied, necessary measures have to be taken to avoid daz ...