To install
1. Make sure the tabs (A) of the back of the wheel cover are not broken and correctly fitted on the rings (B). If in doubt, do not install the wheel cover and consult your MITSUBISHI MOTORS Authorized Service Point.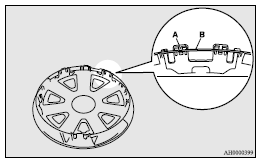 2. Align the air valve (C) of the tyre with the notch (D) in the wheel cover.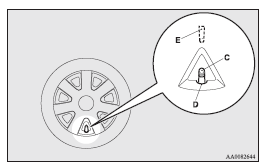 Note
► Full wheel covers have a symbol mark (E) provided on the reverse side to show the air valve location.
Before installing the wheel cover to the wheel, make sure that the opening with the symbol mark is correctly aligned with the air valve.
3. Push the bottom part (F) of the wheel cover into the wheel.
4. Gently push both sides (G) of the wheel cover and hold them in place with both knees.
5. Gently tap around the circumference of the wheel cover at the top (H), then push the wheel cover into place.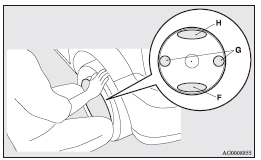 See also:
Audio system anti-theft feature
To prevent theft of the audio system, the control panel can be removed. Always remove the control panel when you leave the vehicle. Removing the control panel Turn the ignition switch to the OFF ...
Charge warning display
If there is a fault with the charging system, the warning display is displayed on the information screen in the multi-information display. The warning lamp in the instrument cluster also illumin ...
To install
Align the tyre valve with the valve opening provided on the wheel cover. Then tap around the outer edge of the wheel cover with your hand to secure it in place. NOTE Full wheel covers have a sy ...