To install
1. Make sure the tabs (A) of the back of the wheel cover are not broken and correctly fitted on the rings (B). If in doubt, do not install the wheel cover and consult your MITSUBISHI MOTORS Authorized Service Point.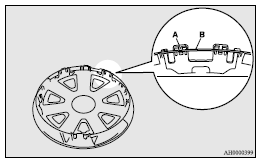 2. Align the air valve (C) of the tyre with the notch (D) in the wheel cover.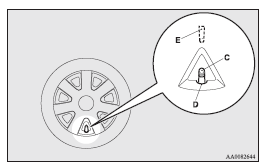 Note
► Full wheel covers have a symbol mark (E) provided on the reverse side to show the air valve location.
Before installing the wheel cover to the wheel, make sure that the opening with the symbol mark is correctly aligned with the air valve.
3. Push the bottom part (F) of the wheel cover into the wheel.
4. Gently push both sides (G) of the wheel cover and hold them in place with both knees.
5. Gently tap around the circumference of the wheel cover at the top (H), then push the wheel cover into place.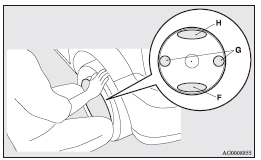 See also:
Tyre rotation
Tyre wear varies with vehicle conditions, road surface conditions and individual driver's driving habits. To equalize the wear and help extend tyre life, it is recommended to rotate the tyres ...
Genuine leather
1. Gently wipe off with gauze or other soft cloth soaked with a 5 % aqueous solution of neutral detergent. 2. Dip cloth in fresh water and wring it out well. Using this cloth, wipe off the deterg ...
Manual window control*
1- To open 2- To close ...