Kia Sportage - 5 generation (NQ5)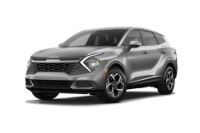 This Owner's Manual will acquaint you with the operation of features and equipment that are either standard or optional on this vehicle, along with the maintenance needs of this vehicle. Therefore, you may find some descriptions and illustrations not appli-cable to your vehicle. It is advised to keep this manual in the vehicle for reference for you and any future owners.
See also:
The front airbags and driver's knee airbag MAY NOT DEPLOY when…
With certain types of frontal collisions, the vehicle's body structure is designed to absorb the shock to help protect the occupants from harm. (The vehicle body's front area may deform signif ...
Carrying children in the vehicle
► Never leave your vehicle unattended with the key and children inside the vehicle. Children may play with the driving controls and this could lead to an accident. ► Make sure that infa ...
Lounge style
Stylishly restrained, Mitsubishi ASX's interior is also a very pleasant place to lounge in, whether in its layout, its functionality or its features. Making the best usage of its long 2.67 m wheel ...