Checking battery electrolyte level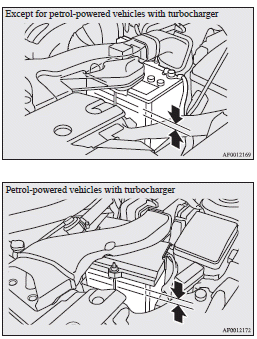 The electrolyte level must be between the specified limit on the outside of the battery. Replenish with distilled water as necessary.
The inside of the battery is divided into several compartments; remove the cap from each compartment and fill to the upper mark. Do not top up beyond the upper mark because spillage during driving could cause damage.
Check the electrolyte level at least once every 4 weeks, depending on the operating conditions.
If the battery is not used, it will discharge by itself with time.
Check it once every 4 weeks and charge with low current as necessary.

Note
► For petrol-powered vehicles with turbocharger, the battery upper cover does not need to be removed to check the battery electrolyte level.
See also:
Manual shift display
In manual shift, the currently selected gear is displayed on the multi-information display. ...
Sunshade
Slide the sunshade (5) manually to open and close it. NOTE The sunshade will operate together with the sunroof only when the sunroof is opened. CAUTION Do not attempt to close the sunshade whe ...
Battery
The condition of the battery is very important for quick starting and to keep the vehicle's electrical system working properly. Regular inspection and care are especially important in cold weathe ...