Steering wheel height adjustment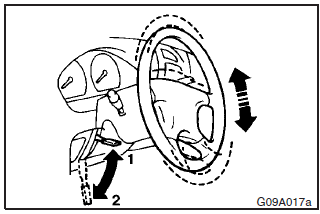 To adjust the steering wheel height, release the tilt lock lever while holding the steering wheel by hand, and raise or lower the steering wheel to the desired height.
After adjustment, securely lock the lever by pulling it upward.
1- Locked
2- Released
WARNING
(1) After adjusting to the desired height, check to be sure that the lever is locked.
(2) Do not attempt to adjust the steering wheel while you are driving the vehicle.
(3) When releasing the tilt lock lever, move it to the release position (2) and hold the steering wheel by hand to prevent it falling to the lowest position.
See also:
Rear wiper blade replacement
Within 20 seconds after the vehicle ignition is OFF, move the wiper lever to MIST position for over 2 seconds until the wiper moves down to the bottom middle part. Raise the wiper arm ...
Average speed display
This displays the average speed from the last reset to the present time. There are the following 2 mode settings. For the method for changing the average speed display setting, refer to "Changing ...
To enter frequencies into the memory
Manual setting You can assign to the memory select buttons (3) a maximum of 18 stations in the FM band (6 FM1, 6 FM2 and 6 FM3 stations) and 6 stations each in the MW and LW band. (Stations alrea ...