How to enter PTYs in the memory
As many as 6 PTYs can be entered in the memory.
Follow the steps described below.
1. Press either the TUNE/SEEK button (5 or 6) to tune the PTY to be entered in the memory.
2. Press one of the memory select buttons (7) for about 2 seconds or longer. The sound will be momentarily interrupted while the PTY is being entered into the memory. The number of the button corresponding to the entry into the memory, and the PTY are displayed.
3. The preset memory setting is retrieved by pressing the button and then releasing it within about 2 seconds.
NOTE
Disconnecting the battery terminal erases all PTYs stored in the memory.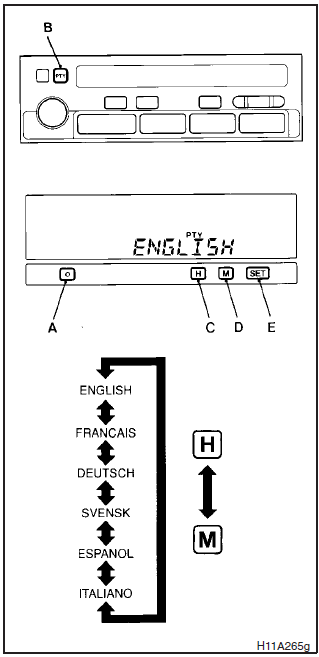 See also:
Making a luggage room
WARNING: ● When making a luggage area, never arrange the seats while the vehicle is being driven or is on an incline. The seats could move unexpectedly or more than required and cause a ser ...
How to adjust the tone
Press the AUDIO button (5) to select BASS - TREBLE - FADER - BALANCE Audio adjust mode off. BASS (Bass tone control) Press the audio adjust button (4) either or to select the desired bass tone ...
Steering wheel lock
To lock Press the engine switch to put the operation mode in OFF. Open one of the doors. To unlock The following methods can be used to unlock the steering wheel. • Put the operation mode in AC ...