Headlamp levelling switch
The angle of the headlamp beam varies depending on the load carried by the vehicle.
The headlamp levelling switch can be used to adjust the headlamp illumination distance (when the lower beam is illuminated) so that the headlamps' glare does not distract other drivers.
Set the switch according to the following table.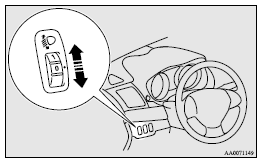 Caution
► Always perform adjustments before driving.
Do not attempt to adjust while driving, as it could cause an accident.

1 person

Full luggage loading
Switch position 0- Driver only/Driver + 1 front passenger
Switch position 1- 5 passengers (including driver)
Switch position 2- 5 passengers (including driver) + Full luggage loading
Switch position 3- Driver + Full luggage loading
See also:
Power steering system
The power steering system operates while the engine is running. It helps reduce the effort needed to turn the steering wheel. The power steering system has mechanical steering capability in case th ...
2011 Mitsubishi ASX Review
Parents looking for an aggressively sporty, small crossover with the ability to rock out should look no further than the all-new 2011 Mitsubishi Outlander Sport. It's probably not the first vehicl ...
Bonnet
To open Pull the release lever towards you to unlock the bonnet. Raise the bonnet while pressing the safety lock. NOTE Only open the bonnet when the wipers are in the parked position. Failure ...