iPod control panel and display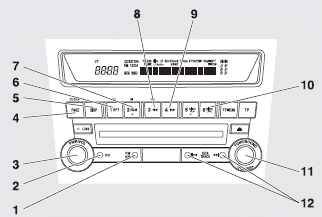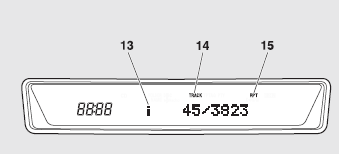 1- AM/FM button
2- CD (Mode change) button
3- PWR (On-Off) button
4- PAGE (Title scroll) button
5- DISP (Title display) button
6- RPT (Repeat) button
7- RDM (Random) button
8-

(Fast-reverse) button
9-

(Fast-forward) button
10- DISC UP button
11- FOLDER switch
12- TRACK (Track up/down) button
13- i (iPod) indicator
14- TRACK indicator
15- RPT/RDM/D-RDM indicator
See also:
Towing
Your vehicle may be towed either by another vehicle with a rope, or by a tow truck. The regulations concerning towing may differ from country to country. It is recommended that you obey the regul ...
Safe driving techniques
Driving safety and protection against injury cannot be fully ensured. However, we recommend that you pay extra attention to the following: Seat belts Before starting the vehicle, make sure that yo ...
Dead Lock System
The Dead Lock System helps to prevent theft. When the keyless entry system or the keyless operation function has been used to lock all of the doors and rear hatch, the Dead Lock System makes it imp ...