Passenger compartment (RHD vehicles)
The fuse boxes in the passenger compartment are located behind the glove box at the position shown in the illustration.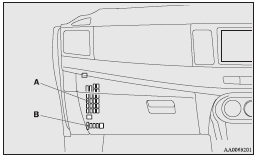 A- Main fuse block
B- Sub fuse block
1. Open the glove box.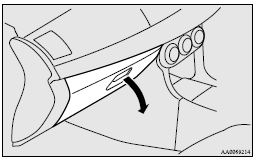 2. Move the rod (A) on the left side of the glove box to the left side of the box.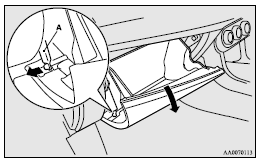 3. While pressing the side of the glove box, unhook the left and right hooks (B) and lower the glove box.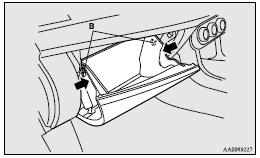 4. Remove the glove box fastener, and then remove the glove box.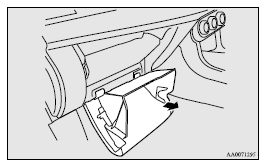 See also:
Waxing
Waxing the vehicle will help prevent the adherence of dust and road chemicals to the paintwork. Apply a wax solution after washing the vehicle, or at least once every three months to assist displa ...
Vehicle care precautions
In order to maintain the value of your vehicle, it is necessary to perform regular maintenance using the proper procedures. Always maintain your vehicle in compliance with any environmental polluti ...
System characteristics
The principle of the Auto Stop & Go (AS&G) system is that it adapts to the vehicle's needs (i.e. energy supply). This means that in certain circumstances the engine will not stop and in ...