Headlamps (high-beam, except for vehicles with high intensity discharge headlamps)
1. When replacing the bulb on the right side of the vehicle, remove the bolt (A) holding down the washer tank spout and move the spout towards the rear of the vehicle.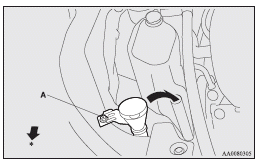 : Front of the vehicle
2. Turn the cap (B) anticlockwise to remove it.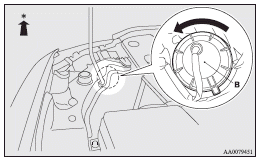 : Front of the vehicle
3. Turn the bulb (C) anticlockwise to remove it.
: Front of the vehicle
4. While pressing the tab (D), pull out the bulb (E).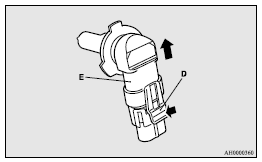 5. To install the bulb, perform the removal steps in reverse.

Caution
► Handle halogen lamp bulbs with care.
The gas inside halogen lamp bulbs is highly pressurized, so dropping, knocking, or scratching a halogen lamp bulb can cause it to shatter.
► Never hold the halogen lamp bulb with a bare hand, dirty glove, etc. The oil from your hand could cause the bulb to break the next time the headlamps are operated.
If the glass surface is dirty, it must be cleaned with alcohol, paint thinner, etc., and refit it after drying it thoroughly.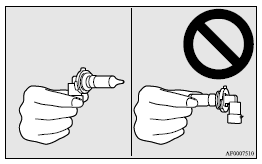 See also:
ASC warning display
If an abnormal condition occurs in the system, the following display/indicator will turn on. - ASC indicator - ASC OFF display/ASC OFF indicator Note ► The combination of items shown on ...
Automatic transmission fluid
The proper amount of automatic transmission fluid is essential to the life and operation of the automatic transmission. Either insufficient fluid or excessive fluid could cause transmission trou ...
Setting of door and tailgate unlock function (Except for vehicles equipped with a Dead Lock System)
The door and tailgate unlock function can be set to the following two conditions. Each time the door and tailgate unlock function is set, a chime will sound to tell you the condition of the door an ...