Side airbag system (SRS) - airbag - Seat and seat belts - Mitsubishi ASX Owner's Manual - Mitsubishi ASX" border="0" width="100" align=right>
The side airbags (A) are contained in the driver and front passenger seatbacks.
The side airbag is designed to inflate only on the side of the vehicle that is impacted, even with no passenger in the front seat.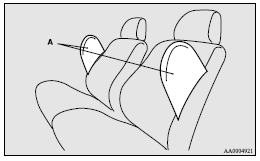 The label shown here is attached to the seatbacks with a side airbag.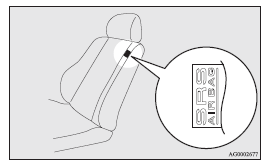 See also:
Modification/alterations to the electrical orfuel systems
MITSUBISHI MOTORS CORPORATION has always manufactured safe, high quality vehicles. In order to maintain this safety and quality, it is important that any accessory that is to be fitted, or any mod ...
Headlamps
NOTE • When entering a country in which vehicles are driven on the opposite side of the road to the country in which your vehicles is supplied, necessary measures have to be taken to avoid daz ...
Vanity mirror
A vanity mirror is fitted to the rear of the sun visor on the passenger side. ...