Reversing sensor system operation indication lamp
In case there is a malfunction in the reversing sensor system, the reversing sensor system operation indication lamp will blink and the warning buzzer will sound for approximately 5 seconds. Even after the buzzer has stopped sounding, the indication lamp will continue flashing until the system reverts to the normal state. Have the vehicle inspected at a MITSUBISHI MOTORS Authorized Service Point.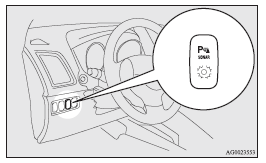 See also:
Normal conditions
The starting procedure is as follows : 1. Insert the ignition key and fasten the seat belt. 2. Apply the parking brake. 3. Depress and hold the brake pedal. 4. Place the gearshift lever (manual tra ...
Change of mode selection
The mode selection dial is operated according to the need. Turn the dial and the air outlet will be changed. Air flow indicator (A) is displayed in the multi centre display. A: From front a ...
Inspection and maintenance following rough road operation
After operating the vehicle in rough road conditions, be sure to perform the following inspection and maintenance procedures: • Check that the vehicle has not been damaged by rocks, gravel, etc. ...