Reversing sensor system operation indication lamp
In case there is a malfunction in the reversing sensor system, the reversing sensor system operation indication lamp will blink and the warning buzzer will sound for approximately 5 seconds. Even after the buzzer has stopped sounding, the indication lamp will continue flashing until the system reverts to the normal state. Have the vehicle inspected at a MITSUBISHI MOTORS Authorized Service Point.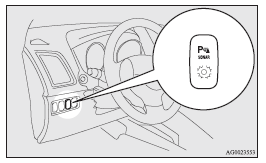 See also:
Fuel injection amount learning process (diesel-powered vehicles)
To keep exhaust emissions and engine noise low, the engine very occasionally performs a learning process for the fuel injection amount. The engine sounds slightly different from usual while the lea ...
Fusible links
The fusible links will melt to prevent a fire if a large current attempts to flow through certain electrical systems. In case of a melted fusible link, we recommend you to have your vehicle inspect ...
Front fog lamp indication lamp
This lamp illuminates while the front fog lamps are on. ...