Audio system anti-theft feature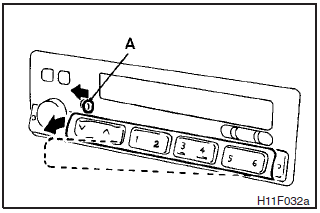 To prevent theft of the audio system, the control panel can be removed. Always remove the control panel when you leave the vehicle.
Removing the control panel
Turn the ignition switch to the OFF position. Then slide the release button (A) to the left and remove the control panel from the audio system. (When sliding the release button, place one hand on the control panel to prevent it from falling out.) The lamp (B) will start flashing.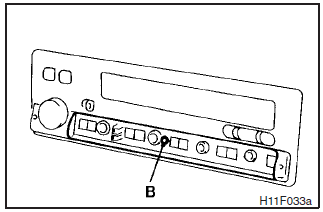 Insert the control panel into the latches at the right-hand side of the cutout on the audio system. Then, press the left-hand side of the control panel into the cutout until it locks in position. The lamp (B) will stop flashing. Next, turn the ignition switch to the ON position.
NOTE
(1) Do not leave the control panel in any place where it may become hot (for example, the dashboard) or in any place where it may become wet.
(2) If you lose the control panel, contact an authorized MITSUBISHI dealer.
See also:
How to adjust the volume
VOL (Volume control)-2 Turn the knob clockwise to increase the volume. How to adjust the tone Press the AUDIO button (5) to select BASS TREBLE FADER BALANCE Audio adjust mode off. BASS (Bass t ...
Modification/alterations to the electrical or fuel systems
MITSUBISHI MOTORS CORPORATION has always manufactured safe, high quality vehicles. In order to maintain this safety and quality, it is important that any accessory that is to be fitted, or any mod ...
Inside rear-view mirror
The lever (A) at the bottom of the mirror can be used to adjust the mirror to reduce the glare from the headlamps of vehicles behind you during night driving. 1- Normal 2- Anti-glare WARNING Do ...