Roof antenna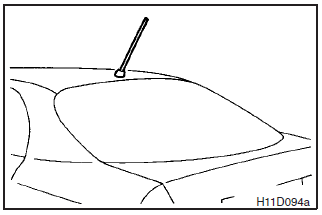 To remove the roof antenna, turn it counterclockwise.
CAUTION
Be sure to remove the roof antenna before entering an automatic car wash or other low-roofed area.
NOTE
Be sure to remove the antenna in the following cases:
When entering a place with low clearance.
When going into an automatic car wash.
When placing a car cover over the vehicle.
See also:
On a flooded road
(1) Avoid flooded roads. Water could enter the brake discs, resulting in temporarily ineffective brakes. In such cases, lightly depress the brake pedal to see if the brakes operate properly. If th ...
Cleaning plastic parts
Use a sponge or chamois leather. If a car wax adheres on a grey or black rough surface of the bumper, moulding or lamps, the surface becomes white. In such a case, wipe it off using lukewarm wate ...
CD control panel and display
1- AM/FM button 2- CD (CD mode changeover) button 3- PWR (On-Off) switch 4- LOAD indicator 5- LOAD button 6- PAGE (Title scroll) button 7- DISP (Display) button 8- RPT (Repeat) button 9- R ...