Change of air selection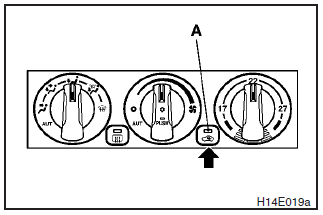 Every time the air selection switch is pressed, alteration is made between outside air introduction and inside air recirculation. When inside air is recirculated, the indicator lamp (A) comes on.
(Outside position)
Outside air is introduced into the passenger compartment.
(Recirculation position)
Air is recirculated inside the passenger compartment.
Normally, use outside position to keep the windscreen and side windows clear and quickly remove fog or frost from the windscreen.
If high cooling performance is desired, or if the outside air is dusty or otherwise contaminated, use the recirculation position. Switch to the outside position periodically to increase ventilation so that the windows do not become fogged up.
CAUTION
Use of the recirculation position for extended time may cause the windows to fog up.
See also:
Cleaning the interior of your vehicle
After cleaning the interior of your vehicle with water, cleaner or similar, wipe and dry in a shady, wellventilated area. Caution ► Do not use organic substances (solvents, benzine, kerosen ...
General maintenance
Fuel, engine coolant, oil and exhaust gas leakage Look under the body of your vehicle to check for fuel, engine coolant, oil and exhaust gas leaks. WARNING: ● If you see a suspicious fuel l ...
Parking
Parking on a slope Fully engage the parking brake, and then move the gearshift lever to 1st (on an uphill) or reverse (on a downhill) position on manual transmission vehicle. On automatic transmi ...