To adjust height
Adjust the head restraint height so that the centre of the restraint is as close as possible to eye level to reduce the chances of injury in the event of collision.
Any person too tall for the restraint to reach their seated eye level, should adjust the restraint as high as possible.
To raise the head restraint, move it upward. To lower the restraint, move it downward while pushing the height adjusting knob (A) in the direction of the arrow. After adjustment, push the head restraint downward and make sure that it is locked.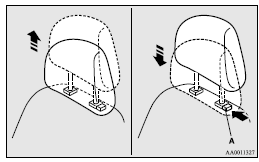 See also:
Rear seat
WARNING • When a person sits in the rear seat, pull up the head restraint to a height at which it locks in position. Be sure to make this adjustment before starting to drive. Serious injuries ...
Fuel consumption
NOTE: ● The results given do not express or imply any guarantee of the fuel consumption of the particular vehicle. The vehicle itself has not been tested and there are inevitably differenc ...
Adjustable seat belt anchor (front seats)
The seat belt anchor height can be adjusted. Move the seat belt anchor up or down with the lock knob (A) depressed. CAUTION When adjusting the seat belt anchor, set it at a position that is suff ...