To adjust height
Adjust the head restraint height so that the centre of the restraint is as close as possible to eye level to reduce the chances of injury in the event of collision.
Any person too tall for the restraint to reach their seated eye level, should adjust the restraint as high as possible.
To raise the head restraint, move it upward. To lower the restraint, move it downward while pushing the height adjusting knob (A) in the direction of the arrow. After adjustment, push the head restraint downward and make sure that it is locked.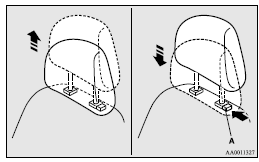 See also:
Operation under adverse driving conditions
On a flooded road ● Avoid flooded roads. Water could enter the brake discs, resulting in temporarily ineffective brakes. In such cases, lightly depress the brake pedal to see if the brakes ...
To remove
Remove the child restraint in accordance with the instructions provided by the child restraint system's manufacturer. ...
To store the flat tyre or spare wheel
1. Lift up the board. 2. To store the flat tyre or spare wheel, fit the installation clamp (A) by turning it clockwise. Note ► On vehicles equipped with a compact spare wheel, the clamp ...