Dipper (High/Low beam change)
When the lamp switch is in the

position, the beam changes from high to low (or low to high) each time the lever is pulled fully (1). While the highbeam is on, the high-beam indication lamp in the instrument cluster will also illuminate.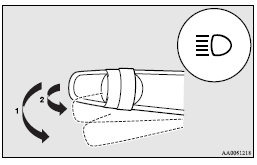 See also:
Fuel gauge
The fuel gauge indicates the fuel level in the fuel tank irrespective of the ignition switch position. 0- Empty 1- Full CAUTION Do not drive with an extremely low fuel level; running out of fue ...
To remove
1. Wrap the tip of the bar with a cloth, insert it deeply into the notch provided in the wheel cover, and use it to lever up the cover a little. 2. With the cover raised a little, pry it off comp ...
Driving, alcohol and drugs
Drunk driving is one of the most frequent causes of accidents. Your driving ability can be seriously impaired even with blood alcohol levels far below the legal minimum. If you have been drinking, ...