To remove
1. Wrap the tip of the bar with a cloth, insert it deeply into the notch provided in the wheel cover, and use it to lever up the cover a little.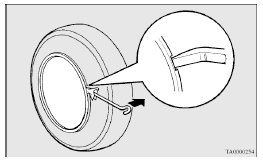 2. With the cover raised a little, pry it off completely using the jack bar. Insert the jack bar under the cover, and move it around the circumference, prying the cover away from the wheel little by little as you move the bar around.

Caution
► If you try to use your hands, they may get hurt by the edge of the wheel cover.

Note
► The wheel cover is made of plastic; take care when prying it off.
See also:
SRS servicing
WARNING • We recommend any maintenance performed on or near the components of the SRS to be performed by a MITSUBISHI MOTORS Authorized Service Point. Improper work on the SRS components or wir ...
Parking on a hill
To prevent the vehicle from rolling, follow these procedures: Parking on a downhill slope Turn the front wheels towards the kerb and move the vehicle forward until the kerb side wheel gently touch ...
Combination headlamps and dipper switch
Headlamps NOTE: ● Do not leave the lights on for a long time while the engine is stationary (not running). A rundown battery could result. ● When it rains, or when the vehicle has bee ...