To remove
1. Wrap the tip of the bar with a cloth, insert it deeply into the notch provided in the wheel cover, and use it to lever up the cover a little.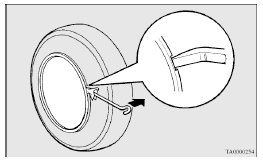 2. With the cover raised a little, pry it off completely using the jack bar. Insert the jack bar under the cover, and move it around the circumference, prying the cover away from the wheel little by little as you move the bar around.

Caution
► If you try to use your hands, they may get hurt by the edge of the wheel cover.

Note
► The wheel cover is made of plastic; take care when prying it off.
See also:
Storage spaces
Caution ► Never leave lighters, cans of carbonated drink, and spectacles in the cabin when parking the vehicle in hot sunshine. The cabin will become extremely hot, so lighters and other f ...
Making a flat seat
By removing the head restraints and fully reclining the seatbacks of the seats, one large flat seat is achieved. WARNING: ● Never drive while there are occupants sitting on the flat seat. Th ...
Power type (driver's side only)
Adjust the seatback angle by operating the switch as indicated by the arrows. 1- To move to forward direction 2- To recline rearward Note ► To prevent the battery from running down, opera ...