To remove
1. Wrap the tip of the bar with a cloth, insert it deeply into the notch provided in the wheel cover, and use it to lever up the cover a little.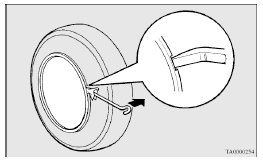 2. With the cover raised a little, pry it off completely using the jack bar. Insert the jack bar under the cover, and move it around the circumference, prying the cover away from the wheel little by little as you move the bar around.

Caution
► If you try to use your hands, they may get hurt by the edge of the wheel cover.

Note
► The wheel cover is made of plastic; take care when prying it off.
See also:
A question of carisma
What it lacks in crowd-stopping style, this medium-sized Japanese contender makes up for with innovation. Introduced in 1995, it was the first Far East car to sidestep import quotas by being built ...
Seat adjustment
Adjust the driver's seat so that you are comfortable and that you can reach the pedals, steering wheel, switches etc. while retaining a clear field of vision. WARNING (1) If required, always adj ...
Card holder
Cards can be slipped into the holder (A) on the back of the sun visor. ...