Checking battery electrolyte level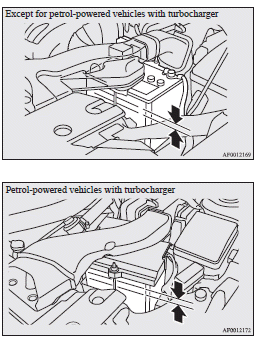 The electrolyte level must be between the specified limit on the outside of the battery. Replenish with distilled water as necessary.
The inside of the battery is divided into several compartments; remove the cap from each compartment and fill to the upper mark. Do not top up beyond the upper mark because spillage during driving could cause damage.
Check the electrolyte level at least once every 4 weeks, depending on the operating conditions.
If the battery is not used, it will discharge by itself with time.
Check it once every 4 weeks and charge with low current as necessary.

Note
► For petrol-powered vehicles with turbocharger, the battery upper cover does not need to be removed to check the battery electrolyte level.
See also:
If your vehicle needs to be towed
If towing is necessary, we recommend you to have it done by your MITSUBISHI MOTORS Authorized Service Point or a commercial tow truck service. In the following cases, transport the vehicle using a ...
Air flow and direction adjustments
Centre ventilators Move the knob (A) to make adjustments. To close the ventilator, move the knob (A) to the inside as far as possible. 1- Close 2- Open Side ventilators Move the knob (A) to ma ...
Genuine Parts
MITSUBISHI MOTORS has gone to great lengths to bring you a superbly crafted automobile offering the highest quality and dependability. Use MITSUBISHI MOTORS Genuine Parts, designed and manufactured ...