Wheel condition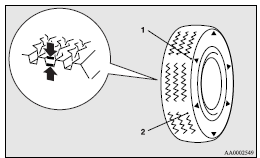 1- Location of the tread wear indicator
2- Tread wear indicator
Check the tyres for cuts, cracks and other damage.
Replace the tyres if there are deep cuts or cracks.
Also check each tyre for pieces of metal or pebbles.
The use of worn tyres can be very dangerous because of the greater chance of skidding or hydroplaning.
The tread depth of the tyres must exceed 1.6 mm in order for the tyres to meet the minimum requirement for use.
Tread wear indicators will appear on the surface of the tyre as the tyre wears, thereby indicating that the tyre no longer meets the minimum requirement for use. When these wear indicators appear, the tyres must be replaced with new ones.
On 4-wheel drive vehicles, when replacement of any of the tyres is necessary, replace all of them.

Caution
► Always use tyres of the same size, same type, and same brand, and which have no wear differences.
Using tyres of different size, type, brands or degree of wear, will increase the differential oil temperature, resulting in possible damage to the driving system.
Further, the drive train will be subjected to excessive loading, possibly leading to oil leakage, component seizure, or other serious faults.
See also:
Cleaning the interior of your vehicle
After cleaning the interior of your vehicle with water, cleaner or similar, wipe and dry in a shady, well-ventilated area. CAUTION: ● Do not use organic substances (solvents, kerosine, alcoh ...
Maintenance
Adequate care of your vehicle at regular intervals serves to preserve the value and appearance as long as possible. Some maintenance items can be carried out by the owner (do it yourself), while ...
Disconnection and connection
To disconnect the battery cable, stop the engine, first disconnect the negative (–) terminal and then the positive (+) terminal. When connecting the battery, first connect the positive (+) termi ...