Vehicle information code plate
The vehicle information code plate is located as shown in the illustration.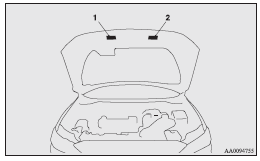 1- Except for vehicles with turbocharger
2- Vehicles with turbocharger
The plate shows model code, engine model, transmission model and body colour code, etc.
Please use this number when ordering replacement parts.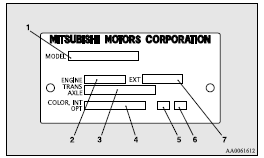 1- Model code
2- Engine model code
3- Transmission model code
4- Body colour code
5- Interior code
6- Option code
7- Exterior code
See also:
Interrupt display screen (when the ignition switch or the operation mode is ON)
Warning display When there is information to be announced, such as a system fault, a sound is emitted and the information screen switches to the warning display screen. Refer to the warning list a ...
Phone book function
The BluetoothВ® 2.0 interface has 2 types of unique phone books that are different from the phone book stored in the cellular phone. They are the vehicle phone book and the mobile phone book. The ...
Steering wheel height adjustment
1. Release the tilt lock lever while holding the steering wheel up. 2. Adjust the steering wheel to the desired height. 3. Securely lock the steering wheel by pulling the tilt lock lever fully upwar ...