Vehicle information code plate
The vehicle information code plate is located as shown in the illustration.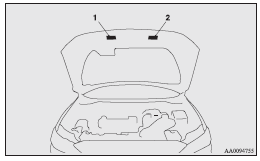 1- Except for vehicles with turbocharger
2- Vehicles with turbocharger
The plate shows model code, engine model, transmission model and body colour code, etc.
Please use this number when ordering replacement parts.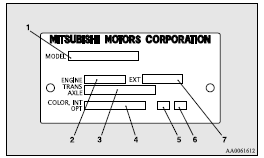 1- Model code
2- Engine model code
3- Transmission model code
4- Body colour code
5- Interior code
6- Option code
7- Exterior code
See also:
New frontier
During the course of 2012, MMC will also take advantage of the built-in possibilities of Mitsubishi Outlander's versatile platform & powerful electronic architecture to add an EV-based plug-In ...
Towing the vehicle by a tow truck
Caution ► This vehicle must not be towed by a tow truck using sling lift type equipment (Type A) as illustrated. Using a sling lift will damage the bumper and front end. ► Do not tow ...
Hill start assist (vehicles with Twin Clutch SST)
The hill start assist makes it easy to start off on a steep uphill slope by preventing the vehicle from moving backwards. It keeps the braking force for about 2 seconds when you move your foot fro ...