Vehicle information code plate
The vehicle information code plate is located as shown in the illustration.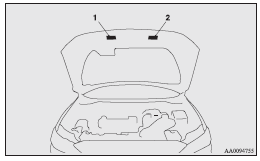 1- Except for vehicles with turbocharger
2- Vehicles with turbocharger
The plate shows model code, engine model, transmission model and body colour code, etc.
Please use this number when ordering replacement parts.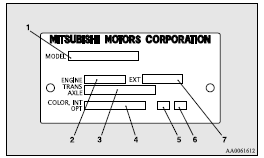 1- Model code
2- Engine model code
3- Transmission model code
4- Body colour code
5- Interior code
6- Option code
7- Exterior code
See also:
Important operation tips for the airconditioning
● Park the vehicle in the shade. Parking in the hot sun will make the vehicle inside extremely hot, and it will require more to cool the interior. If it is necessary to park in the sun, open ...
Twin Clutch SST (Sport Shift Transmission)
The Twin Clutch SST is a transmission that, through integrated control of the engine and transmission, is able to achieve both the smooth shifting of an automatic transmission and the acceleration ...
Steering wheel lock
[For vehicles equipped with keyless operation system] For information on operations for vehicles equipped with the keyless operation system, refer to "Keyless operation system: Steering wheel loc ...