Radio control panel and display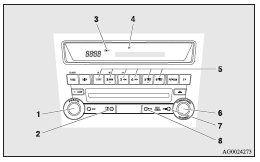 1- PWR (On-Off) switch
2- AM/FM (FM/MW/LW selection) button
3- FM (FM1/FM2/FM3) indicator
4- ST (Stereo) indicator
5- Memory select buttons
6- TUNE switch
7- SEEK (Up-seek) button
8- SEEK (Down-seek) button
See also:
On a bumpy or rutted road
Drive as slow as possible when driving on bumpy or rutted roads. Caution ► The impact on tyres and/or wheels when driving on a bumpy or rutted road can damage the tyre and/or wheel. ► ...
2010 Mitsubishi Outlander Review
While Mitsubishi's Outlander got a whole new front-end look for 2010, what it really needed was a remake of its base four-cylinder engine, which is weak and doesn't get good gas mileage, either. ...
How to change a tyre
Before changing a tyre, first stop your vehicle in a safe, flat location. 1. Park the vehicle on level and stable ground, free of loose pebbles, etc. 2. Set the parking brake firmly. 3. On vehicles ...