How to enter PTYs in the memory
As many as 6 PTYs can be entered in the memory.
Follow the steps described below.
1. Press either the TUNE/SEEK button (5 or 6) to tune the PTY to be entered in the memory.
2. Press one of the memory select buttons (7) for about 2 seconds or longer. The sound will be momentarily interrupted while the PTY is being entered into the memory. The number of the button corresponding to the entry into the memory, and the PTY are displayed.
3. The preset memory setting is retrieved by pressing the button and then releasing it within about 2 seconds.
NOTE
Disconnecting the battery terminal erases all PTYs stored in the memory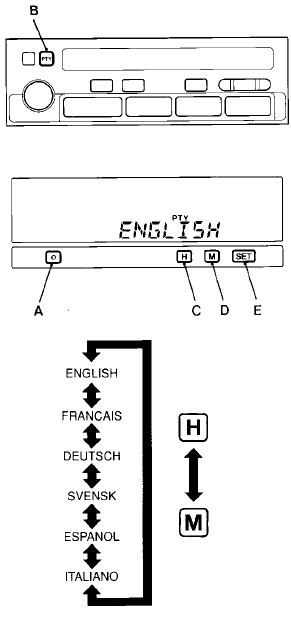 See also:
Limited-slip differential (LSD)
A limited-slip differential (LSD) is applied for the rear wheel differential. The features of this LSD are described below: Just as with a conventional differential, the wheel on one side is allow ...
Roof antenna
To remove the roof antenna, turn it counterclockwise. CAUTION Be sure to remove the roof antenna before entering an automatic car wash or other low-roofed area. NOTE Be sure to remove the ante ...
Customizing the air selection (Changing function settings)
Functions can be changed as desired, as stated below. ► Enable automatic air control: When the heater operates, the air selection switch will be automatically controlled. ► Disable auto ...