Bleeding the fuel system (diesel-powered vehicles only)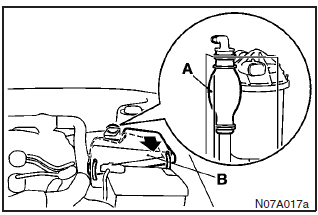 The fuel system should be bled to remove air as described below if the fuel supply is exhausted during travel.
1. Undo the four clips on the air cleaner and push the cover (B) aside.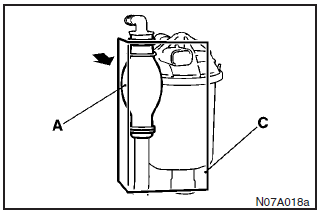 2. Press the pump (A) against the bracket (C) with your fingers until the pump becomes stiff. Then pump several times more to pressurize the system.
3. Finally, start the engine and check for leakage of fuel. If in doubt, consult your nearest authorized MITSUBISHI dealer.
CAUTION
(1) Do not smoke or have any other open flame near the vehicle while bleeding the fuel system.
(2) Be sure to carefully clean away any spilt fuel which could ignite and cause a fire.
See also:
Cleaning the interior of your vehicle
After cleaning the interior of your vehicle with water, cleaner or similar, wipe and dry in a shady, wellventilated area. CAUTION • Do not use organic substances (solvents, benzine, kerosene, a ...
Emergency stop signal system
This is a device that reduces the possibility of rear end collisions by the rapid and automatic blinking of the hazard warning lamps to alert vehicles approaching from behind during sudden braking ...
Disposal information for used batteries
Your vehicle contains batteries and/or accumulators. Do not mix with general household waste. For proper treatment, recovery and recycling of used batteries, please take them to applicable colle ...