Bleeding the fuel system (diesel-powered vehicles only)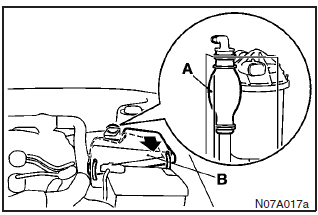 The fuel system should be bled to remove air as described below if the fuel supply is exhausted during travel.
1. Undo the four clips on the air cleaner and push the cover (B) aside.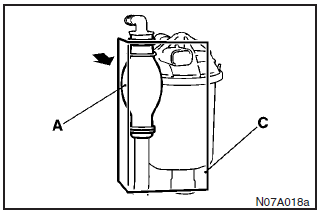 2. Press the pump (A) against the bracket (C) with your fingers until the pump becomes stiff. Then pump several times more to pressurize the system.
3. Finally, start the engine and check for leakage of fuel. If in doubt, consult your nearest authorized MITSUBISHI dealer.
CAUTION
(1) Do not smoke or have any other open flame near the vehicle while bleeding the fuel system.
(2) Be sure to carefully clean away any spilt fuel which could ignite and cause a fire.
See also:
Caution for installing the child restraint on vehicles with a front passenger airbag
The label shown here is attached on vehicles with a front passenger airbag. Warning ► Extreme Hazard! Do not use a rearward facing child restraint on a seat protected by an airbag in fro ...
Operating the system as a manual air conditioning
If you operate the blower speed selection dial or the mode selection dial as you desired, the system is still automatically controlled except selected function which dial is operated. To return al ...
Dead Lock System
The Dead Lock System helps to prevent theft. When the keyless entry system or the keyless operation system has been used to lock all of the doors and the tailgate, the Dead Lock System makes it imp ...