Room lamps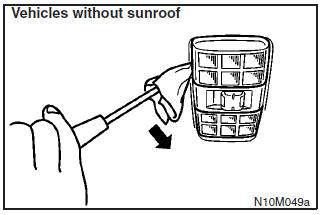 Insert a straight blade (or minus) screwdriver into the notch of the lamp assembly and pry gently to remove the lens.
Remove the lamp bulb from the lamp holder.
NOTE
Wrap a piece of cloth around the straight blade (or minus) screwdriver in order to avoid scratching the lens.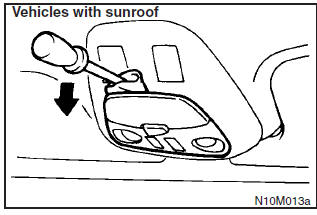 See also:
The Inside
The crossover's uncluttered dashboard sweeps across the front of the cabin, broken up only by the instrument hood. The dash panels are made of hard plastic, but they have nice graining and don't l ...
Parking brake break-in
Break-in the parking brake linings whenever the brake performance of the parking brake is insufficient or whenever the parking brake linings and/or discs are replaced, in order to assure the best ...
Safety mechanism
If a hand or head is trapped in a closing window, the window glass will lower automatically. Please ensure that nobody puts their head or hand out the window when closing. The lowered window will ...