Procedure for replacing the remote control switch battery
1. Before replacing the battery, remove static electricity from your body by touching a metal grounded object.
2. With the MITSUBISHI mark facing you, insert the cloth-covered tip of a straight blade (or minus) screwdriver into the notch in the case and use it to open the case.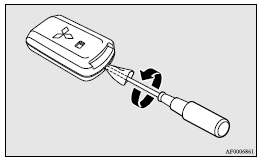 Note
► Be sure to perform the procedure with the MITSUBISHI mark facing you. If the MITSUBISHI mark is not facing you when you open the case, the transmitter may come out.
3. Remove the old battery.
4. Install a new battery with the + side (A) up.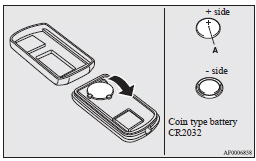 5. Close the case firmly.
6. Check the keyless operation function to see that it works.

Note
► You may purchase a replacement battery at an electric appliance store.
► A MITSUBISHI MOTORS Authorized Service Point can replace the battery for you if you prefer.

Caution
► When the remote control switch case is opened, be careful to keep water, dust, etc. out. Also, do not touch the internal components.
See also:
Parking brake
To park the vehicle, first bring it to a complete stop, fully apply the parking brake lever sufficiently to hold the vehicle. ...
Driving, alcohol and drugs
Driving after drinking alcohol is one of the most frequent causes of accidents. Your driving ability can be seriously impaired even with blood alcohol levels far below the legal minimum. If you ha ...
High–mounted stop lamp
Hatchback Place the groove of clip top as shown, then remove the cover. Undo bolts (A), remove the lamp body, and disconnect the connector. Undo screws (B) and take the bulb out of its socket ...