Procedure for replacing the remote control switch battery
1. Before replacing the battery, remove static electricity from your body by touching a metal grounded object.
2. With the MITSUBISHI mark facing you, insert the cloth-covered tip of a straight blade (or minus) screwdriver into the notch in the case and use it to open the case.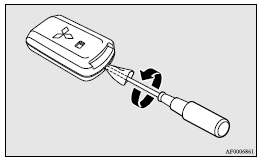 Note
► Be sure to perform the procedure with the MITSUBISHI mark facing you. If the MITSUBISHI mark is not facing you when you open the case, the transmitter may come out.
3. Remove the old battery.
4. Install a new battery with the + side (A) up.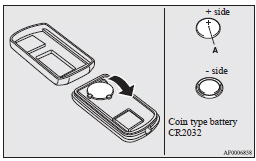 5. Close the case firmly.
6. Check the keyless operation function to see that it works.

Note
► You may purchase a replacement battery at an electric appliance store.
► A MITSUBISHI MOTORS Authorized Service Point can replace the battery for you if you prefer.

Caution
► When the remote control switch case is opened, be careful to keep water, dust, etc. out. Also, do not touch the internal components.
See also:
Window glass
The window glass can normally be cleaned using only a sponge and water. Glass cleaner can be used to remove oil, grease, dead insects, etc. After washing the glass, wipe dry with a clean, dry, soft ...
Engine overheating
When the engine has overheated, the information screen in the multi-information display will be interrupted and the engine coolant temperature warning display will appear. The screen will then cha ...
Infants and small children
When transporting infants and small children in your vehicle, follow the instruction given below. Instruction: • For small infants, an infant carrier should be used. For small children whose ...