System preparation mode (approx. 20 seconds)
(The buzzer sounds intermittently and the security indicator (A) blinks.)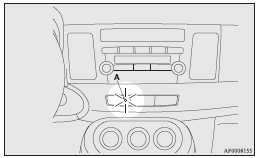 The system preparation time extends from the point at which all of the doors and rear hatch are locked by pressing the LOCK switch on the remote control switch or the keyless operation function to the point at which the system armed mode goes into effect.
During this time, it is possible to temporarily open a door or the rear hatch without using the keyless entry system or the keyless operation function and without causing the alarm to sound (for example, when you forget something inside the vehicle or realize that a window is open).
See also:
Wheel covers
To removeWrap the tip of the jack bar with a cloth, insert it deeply into the notch provided in the wheel cover, and pry the cover away from the wheel. Using the same procedure at the other wheel ...
The side airbags and curtain airbags ARE DESIGNED TO DEPLOY when…
The side airbags and curtain airbags are designed to deploy when the vehicle suffers a moderate-tosevere side impact to the middle of the passenger compartment. The typical condition is shown in th ...
Engine overheating
When the engine has overheated, the information screen in the multi-information display will be interrupted and the engine coolant temperature warning display will appear. The screen will then cha ...