Alarm activation
When the system is in the system armed mode, the alarm will be activated as follows if the vehicle is unlocked or if any of the doors, rear hatch or bonnet is opened using a method other than the keyless entry system or the keyless operation function.
1. The alarm will be activated for approximately 30 seconds. The turn-signal lamps will blink, and the siren will sound intermittently.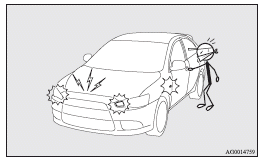 2. The alarm will resume if unlawful actions are taken again, even if the alarm has stopped.

Note
► During an alarm operation, the alarm is displayed on the information screen in the multiinformation display.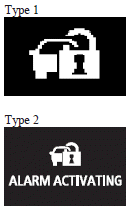 See also:
Retracting and extending the mirrors without using the mirror retractor switch
[Vehicles with keyless entry system] The mirrors automatically retract or extend when the doors are locked or unlocked using the remote control switches of the keyless entry system. Refer to "Ke ...
Selector lever operation
The CVT selects an optimum gear ratio automatically, depending on the speed of the vehicle and the position of the accelerator pedal. The selector lever (A) has 2 gates; the main gate (B) and the m ...
Replacement of lamp bulbs
Before replacing a bulb, ensure the lamp is off. Do not touch the glass part of the new bulb with your bare fingers; the skin oil left on the glass will evaporate when the bulb gets hot and the va ...