To install
Confirm that the head restraint is facing the correct direction, and then insert it into the seatback while pressing the height adjusting knob (A) in the direction indicated by the arrow.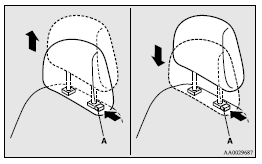 Caution
► Confirm that the height adjusting knob (A) is correctly adjusted as shown in the illustration, and also lift the head restraints to ensure that they do not come out of the seatback.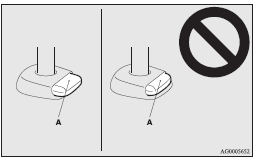 Caution
► The shape and size of the head restraint differs according to the seat. Always use the correct head restraint provided for the seat and do not install the head restraint in the wrong direction.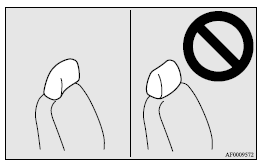 See also:
Adjustable load floor
Storage space can be increased by lifting down the board. Caution ► The exhaust pipe remains hot for a while after stopping the engine, so be sure not to touch it. ► Do not stand beh ...
Error codes
If an error code appears in the display, take action in accordance with the table below. ...
Ashtray
Caution ► Put out matches and cigarettes before they are placed in the ashtray. ► Don't put papers and other things that burn into your ashtrays. If you do, cigarettes or other smok ...