ACD warning display
When there is a malfunction in the system, the warning display will appear on the information screen in the multi-information display.
In addition, the ACD control mode display in section (A) will go out at the same time.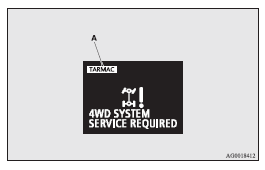 Caution
► The system may be malfunctioning.
Park your vehicle in a safe place and stop the engine.
Restart the engine and check whether the

warning display goes out.
If the

warning display goes out, there is no abnormal condition. If the

warning display does not go out or appears frequently, it is not necessary to stop the vehicle immediately, but we recommend you to have your vehicle inspected.

Note
► If the ambient temperature drops and the viscosity of the AWC control fluid increases, the warning may be displayed.
At this time, ACD control is temporarily suspended, but this will not affect normal driving.
After the vehicle is driven for a while, if the engine is restarted after the AWC control fluid warms up or the ambient temperature increases, the ACD control will start operating again if the warning display goes out.
See also:
Roof carrier precaution
CAUTION (1) Make sure that the weight of the luggage does not exceed the allowable roof load. If the allowable roof load is exceeded, this may cause damage to the vehicle. The roof load is the to ...
Vehicle care
In order to maintain the value of your vehicle, it is necessary to perform regular maintenance using the proper procedures. Always maintain your vehicle in compliance with any environmental pollut ...
Engine overheating
When the engine has overheated, the information screen in the multi-information display will be interrupted and the engine coolant temperature warning display will appear. The screen will then cha ...