Air selection switch
To change the air selection, simply press the air selection switch.
A sound will be made every time you push the switch.
► Outside air: Indication lamp (A) is OFF Outside air is introduced into the passenger compartment.
► Recirculated air: Indication lamp (A) is ON Air is recirculated inside the passenger compartment.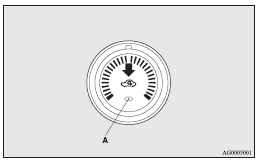 Caution
► Normally, use the outside position to keep the windscreen and side windows clear and quickly remove fog or frost from the windscreen.
If the outside air is dusty or otherwise contaminated use the recirculation position.
Switch to the outside position periodically to increase ventilation so that the windows do not become fogged up.
► Use of the recirculation position for extended time may cause the windows to fog up.

Note
► When the heater operates with the selection switch in the outside position, the system automatically determines whether to continue using outside air or to perform recirculation.
If the outside air temperature is high, the system selects recirculation and causes the indication lamp (A) in the switch to illuminate.
Press the selection switch to return to outside air introduction.
See also:
Child-protection rear doors
1- Lock 2- Unlock Child protection helps prevent the rear doors from being opened accidentally from the inside. If the lever is set to the locked position, the rear door cannot be opened using ...
Seat
1-Front seat ● To adjust forward or backward → P. 2-6. ● To recline the seatback → P. 2-7. ● To adjust seat height (driver's seat only) → P. 2-8. ● Ar ...
Radio control panel and display
1- PWR (On-Off) switch 2- AM/FM (FM/MW/LW selection) button 3- Memory select buttons 4- TUNE switch 5- SEEK (Up-seek) button 6- SEEK (Down-seek) button 7- FM (FM1/FM2/FM3) indicator 8- ST ( ...