Assist grip
These grips are to support the body by hand while seated in the vehicle.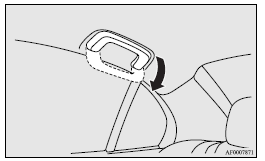 Caution
► Do not use the assist grips when getting into or out of the vehicle.
The assist grips could detach and cause an accident.
See also:
Dipper (High/Low beam change)
When the lamp switch is in the position, the beam changes from high to low (or low to high) each time the lever is pulled fully (1). While the high beam is on, the high-beam indication lamp in th ...
Fuel selection
For the petrol-powered vehicles with turbocharger, your engine is designed to provide satisfactory performance by using unleaded petrol octane number 98 RON or higher. In order to maintain engin ...
Inside tailgate release
The inside tailgate release is designed to provide a way to open the tailgate in the case of a discharged battery. The tailgate release lever (see illustration) is mounted on the tailgate. You a ...