Assist grip
These grips are to support the body by hand while seated in the vehicle.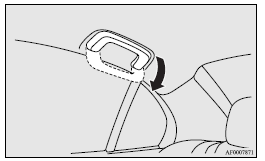 Caution
► Do not use the assist grips when getting into or out of the vehicle.
The assist grips could detach and cause an accident.
See also:
Tyres
WARNING: ● Driving with tyres that are worn or improperly inflated can result in a collision and serious or fatal injury. Tyre inflation pressures : Above 160 km/h (100 mph). Check the t ...
Ignition switch
1- The engine is stopped, and the steering wheel is locked. The key can only be inserted and removed only when the switch is in this position. 2- The engine is stopped, but the radio, cigarette ...
Mitsubishi Carisma Parts
(approx based on a 1996 Carisma 1.6GLX) A clutch assembly is around £125 and an exhaust system about £550. Allow £30 or so for front brake pads, whilst the rear set is £50. ...