Doors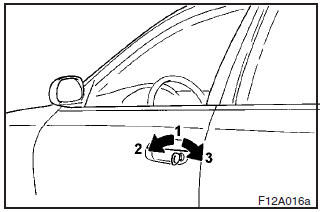 Operation from outside the vehicle
1- Insert or remove the key
2- Lock
3- Unlock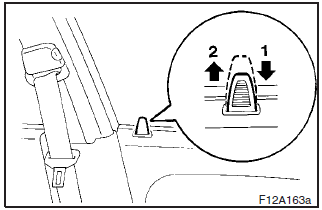 Operation from inside the vehicle
1- Lock
2- Unlock
Pull the inside door handle toward you to open the door.
When the inside door handle of the front door is pulled, the door can be opened even if the door is locked.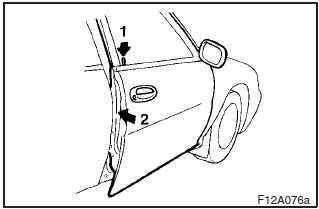 To lock the front door without a key
Press the inside lock button (1), and close the door (2).
"Forgotten-key-prevention" mechanism
If the lock button of the driver's door is pressed while the driver's door is opened, the lock will be automatically released.
To lock the rear doors
Press the inside lock button (1), and close the door (2).
CAUTION
(1) Make sure the doors are closed: driving with doors incompletely closed is very dangerous.
(2) Never leave children in the vehicle unattended.
(3) Be careful not to lock the doors while the key is inside the vehicle.
See also:
Checking the engine oil level
Engine oil is used for lubricating, cooling, and operating various hydraulic components in the engine. Engine oil consumption while driving is normal, and it is necessary to check and refill the e ...
Windscreen wiper and washer switch
The windscreen wiper and washer can be operated with the ignition switch in the "ON" or "ACC" position. Move the switch to operate the windscreen wipers or spray the washer fluid. ...
Tyres
WARNING • Driving with tyres that are worn, damaged or improperly inflated can lead to a loss of control or blow out of the tyres which can result in a collision with serious or fatal injury. ...