Doors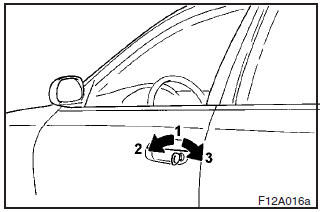 Operation from outside the vehicle
1- Insert or remove the key
2- Lock
3- Unlock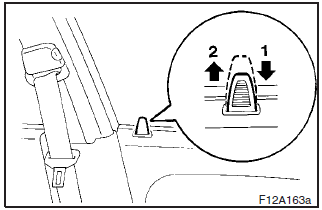 Operation from inside the vehicle
1- Lock
2- Unlock
Pull the inside door handle toward you to open the door.
When the inside door handle of the front door is pulled, the door can be opened even if the door is locked.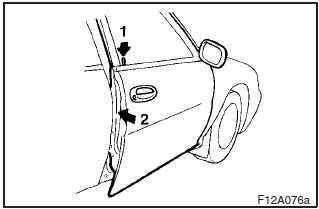 To lock the front door without a key
Press the inside lock button (1), and close the door (2).
"Forgotten-key-prevention" mechanism
If the lock button of the driver's door is pressed while the driver's door is opened, the lock will be automatically released.
To lock the rear doors
Press the inside lock button (1), and close the door (2).
CAUTION
(1) Make sure the doors are closed: driving with doors incompletely closed is very dangerous.
(2) Never leave children in the vehicle unattended.
(3) Be careful not to lock the doors while the key is inside the vehicle.
See also:
Operation of the Dead Lock System
In a vehicle that has a Dead Lock System, it is possible to set the Dead Lock System using the remote controller. (Refer to "Dead Lock System".) ...
Checking the coolant level
The high-pressure cooling system has a reservoir filled with year round antifreeze coolant. The reservoir is filled at the factory. Check the antifreeze protection and coolant level at least on ...
Front turn–signal lamps
Petrol–powered vehicles, Diesel–powered vehicles (right side) Turn the bulb socket anticlockwise to remove. And remove the bulb from the socket by turning anticlockwise while pressing it inwa ...